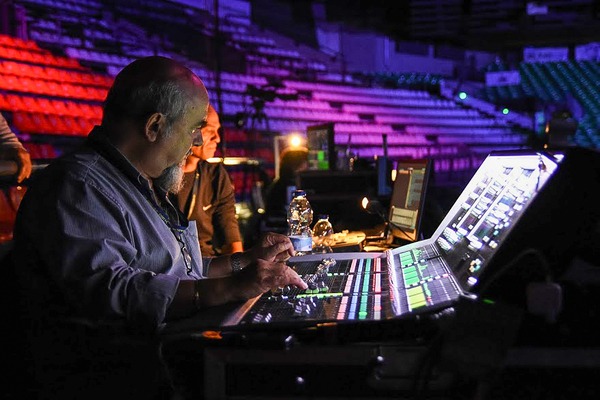 An Allen & Heath dLive S Class mixing system was selected for a recent large scale classical music production at Mandela Forum, Florence, Italy, which saw over 460 musicians and choristers perform a selection of works to celebrate the 25th Anniversary of the Florence Foundation.
La Piazza Incantata included members of the Choir of the Maggio Musicale Fiorentino with the soloists of the May Academy, the Orchestra of the Conservatorio Cherubini, the Italian Youth Orchestra of the Music School of Fiesole and the Orchestra of Tuscany.
Production company ABC srl Rome was responsible for the audio for the event, with 148 microphone inputs, over 6 stereo matrix, and multiple Aux groups for monitor mixes. ABC used a dLive S7000 surface, with a DM64 mix rack and 3 fully-loaded DX32 I/O expanders to handle both FOH and Monitor mixing.
The performance posed a number of technical challenges, but in combination with their dLive system, the production team delivered a seamless show to an audience of 3,500 people, leading to a 2-minute standing ovation.
"For this performance, the compact format, easy interface and flexible routing of the dLive S7000 system made it the perfect choice," said Sound Engineer, Marco Lecci. "The sound was also great," he continues. "The dLive captured the extremely dynamic sound of the orchestra perfectly. The preamps are transparent and the EQ, Dynamics and FX are really good."