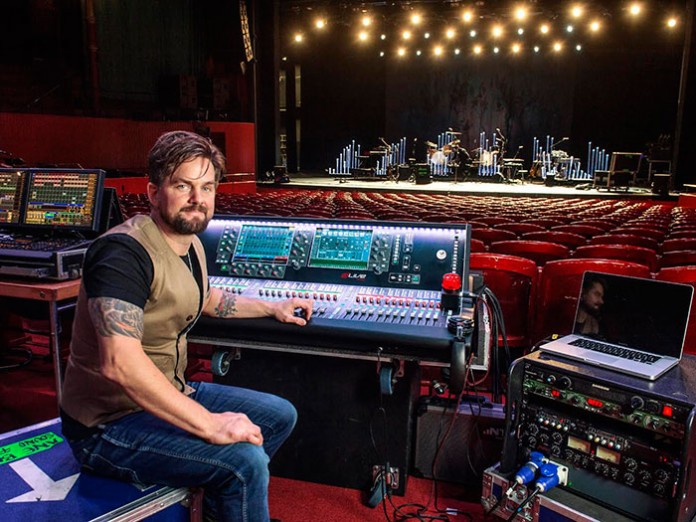 Two Allen & Heath dLive digital mixing systems managed the recent two-month run of Green Day's stage show, American Idiot, at Cirkus Theatre in Stockholm, Sweden. Parashoot PA was appointed to manage the sound, selecting S7000 Control Surface and DM64 MixRack at both FOH and monitors, and a ME system for personal monitors, from its hire stock.
"I wasn't sure at first when the producer asked me to design and engineer the show as we are a touring PA company but he was adamant that the show was about capturing the Green Day sound and attitude," explained Parashoot's Oscar Söderlund. "I thought it would be fun to meet the challenge but rather than use an SSL desk, which was used on the original Green Day recording, I chose dLive. The delivery and accuracy of the system is amazing, so I knew I just had to put it on American Idiot."
Technical requirements comprised 21 head mics, full punk rock band, keyboards and a string section. Rehearsals commenced in Parashoot Studios with an S7000 and DM64 set up with the band in Studio 2, and the second S7000 and DM64 system in the basement studio, fitted with Dante cards for splitting FOH and monitors and for tracking and recording to play back.
Full rehearsals commenced in Cirkus, with the band, string section and entire vocal ensemble. The band was placed on a moving platform, and all guitar and bass amp were housed in cabinets by monitor position. An ME personal monitoring system was selected as the band and string monitoring solution, plus the actors were using head mics and IEMs, together with 8 Meyer Sound speakers for stage fills.
"ME was the perfect monitor choice for the band and string players as it was easy to equip each musician with a ME-1, and also personalise their settings. The production was on time code and there are 5-7 different click-track and tone channels, so we wanted to free up Peter, the monitor engineer, as he had his hands full!" explained Söderlund.
Both Monitor and FOH DM64 MixRacks were installed under the S7000 monitor surface, and a digital spilt was achieved via Dante cards fitted in each rack. Waves network cards were also installed in both Surfaces for recording options. The monitor rack was also fitted with a MADI card to provide a MADI feed to the head mic engineer, for channel monitoring of the 30 systems of Shure URD4 with DPA head mics.
"The precision and definition of the dLive pre amps and channel path is remarkable, a quality that did not go unnoticed by the production team. I often forgot that we were using head-mics, as the vocals sounded great, and remained on top of the pretty bold and loud rock music," concluded Söderlund.