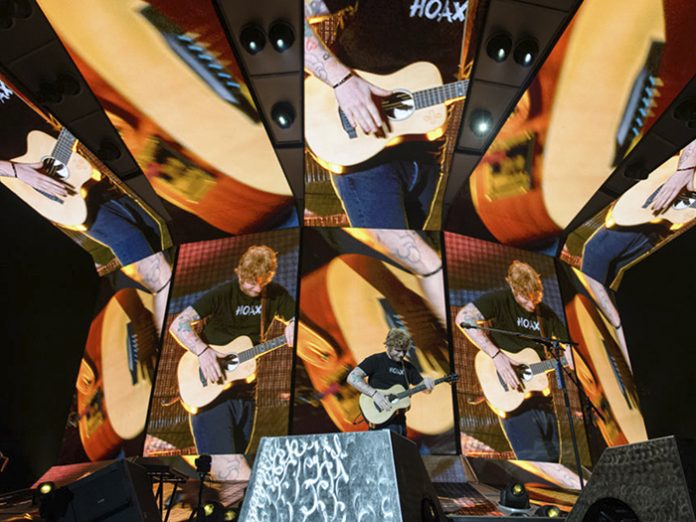 As multi-award winning singer/songwriter Ed Sheeran continues his 3rd global world tour, the long-running production has upgraded to a disguise gx 2 media server and become the first show to use the new disguise HDMI 2.0 VFC cards.
"I've been a fan of disguise since I began using the product in 2014 for the start of Ed's Multiply world tour," said Mark Cunniffe, the tour's Show Designer.  "The seamless integration between Notch real time effects and disguise has made disguise my go-to product."
Video Director Phil Mead notes that when the stadium leg of Sheeran's tour kicked off the show added side IMAG elements and the servers were working at capacity.  "Upgrading to the gx 2 not only gave us greater headroom to continue using Notch for the main screens and IMAG but also had the advantage of scaling down the number of servers we needed," he said.  "We had been using two active 4x2pros and one understudy, and now the entire show is powered by a single gx 2 with a second in the wings should we need a backup."
Working with vendor Colonel Tom Touring Mead completely overhauled the LED processing on this leg of the tour adding a new Brompton 4K SX40 LED processor so there is no DVI in the upgraded system.
"Our gx 2 is outfitted with one HDMI 2.0 VFC card and one Quad-SDI VFC card," Mead explained.  "The HDMI is running in 4K DCI and feeds all but one of the walls on the entire flown system – the crowns, ceilings and walls.  The Quad-SDI VFC's are running in 3G SDI mode and feed two M2 processors for one wall and all the floor systems.  A third output feeds the side IMAG screens."
Cunniffe concluded: "everything was programmed in my studio before loading onto the touring gx 2s.  The fact that the system can be run on any high-end computer set up makes it very flexible during the pre-pro period.  The roll up to the system's newer software releases was faultless."