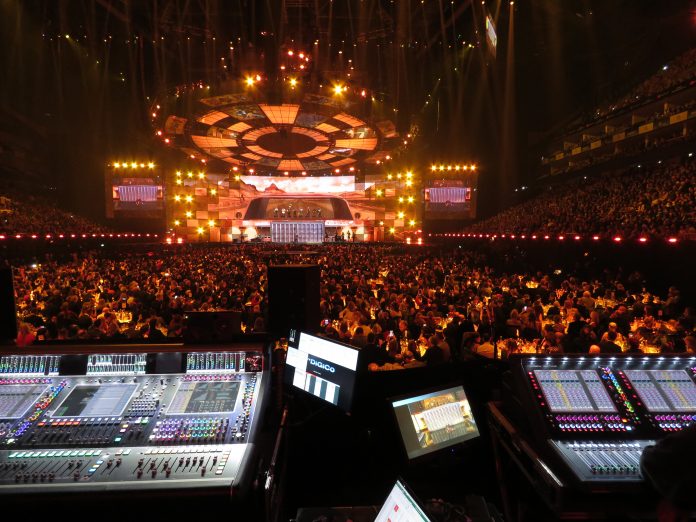 DiGiCo consoles were specified throughout the entire 2019 BRIT Awards. Staged at the O2 Arena, the production acknowledges the best in musical talent and this year counted The Carters, Drake and Ed Sheeran amongst its winners.
The evening's live mixes, which were also broadcast live on TV, saw Hugh Jackman, George Ezra, Jess Glynne and the 1975 amongst other top artists perform with the sound of DiGiCo.
"The BRIT Awards is always a tricky show; being able to balance artists' needs with simplicity and continuity throughout is hard to achieve," stated Colin Pink, The BRITs longstanding Live Sound Supervisor. "This year, every sound desk was a DiGiCo, which allowed the production to feel much more elegant than in the past."
The consoles, deployed by Britannia Row Productions – which has been The BRITs' audio supplier for over 20 years – were two SD7s at FOH with an SD7 Quantum surface, two SD12s at FOH for the presenters, hosts and acceptance speeches, and two further SD7s in monitor world flip-flopping between live performances.
The 1975 brought in anSD5 for their monitoring duties and P!nk's pre-recorded section was handled via her own SD12 by FOH engineer Dave Bracey – a long-time DiGiCo user.
"The advances that the Quantum Engine brings to the flagship SD7 allow so much more flexibility and simplicity to these multi-band gigs," Colin continued. "It's a great asset to the DiGiCo brand."
Lez Dwight, Britannia Row Sales Director, joined the conversation: "This year's BRITs really benefitted from a unique and brilliant production design from Misty Buckley. Her set was very favourable for an emphasis on quality live audio.
"The show went very well, with no technical issues whatsoever, in no small part due to DiGiCo's expert presence. DiGiCo artist liaison manager, Mark Saunders, and product specialist Dave Bigg, provided instant, on-site support."
Lez highlighted the benefits of working with DiGiCo kit: "As well as the show being completely DiGiCo this year, it was also the first time we've ever used 32-bit cards across the whole range of consoles on a live production.
"Britannia Row has worked with DiGiCo for a very long time, as has our worldwide network within Clair Global. It's the console that the majority of engineers are very happy to use, which is important for a multi-act show like this. The 1975 requested to bring their own monitor desk in, and as their preferred console is an SD5, it worked with the production perfectly. The Live sound quality this year was truly exceptional."