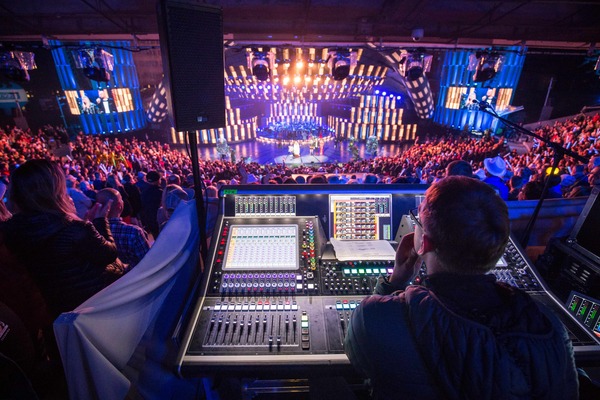 The 54th edition of the National Festival of Polish Song, held in the Millennium Amphitheatre in the city of Opole, was supported by DiGiCo's SD5, SD12 and SD-Racks, equipped with the latest 32-Bit Mic Pre-Amp cards, which played a central role in the event.
An annual celebration of the Polish music scene, transmitted live by the national public broadcaster TVP to a multimillion audience, the festival paid tribute to one of the nation's greatest artists Maryla Rodowicz, who celebrated her 50th anniversary on stage at the festival.
Responsibility for delivering and operating the venue's PA system went one of the largest and most reputable Polish rental companies, Gigant Sound – Letus.  "DiGiCo was an obvious choice, right from the start when the contract was signed for this event," said Jerzy 'Gigant' Taborowski, owner of the company and a highly-experienced specialist in electroacoustic systems. "The high demands of this production, the need to ensure reliability and the complexity of the project was made possible by using DiGiCo consoles."
A DiGiCo SD5 was deployed at Front of House. Operated by Paweł Zakrzewski and Jakub Mikołajczak, it shared an Optocore redundant optical loop with five DiGiCo SD-Racks, each with a maximum configuration of 56 analogue inputs, 40 analogue outputs and 16 digital outputs. One of the SD-Racks, which supported the most important input channels, the main wireless microphones, featured the latest 32 Bit Mic Preamp cards, offering unmatched 32-bit resolution, offering crisp and staggering dynamic sound quality, perfectly audible on the large electroacoustic system used for the amphitheatre's sound.
Operated by Tomasz Zajma, head of monitors, alongside Pawel Goliński and Wojciech Rzechówka, the complex monitor system consisted of the main monitor console, based on another DiGiCo SD5, plus two new SD12 consoles.
Each console had output channels for performing monitor mixes for specific parts of the event, assigned to output cards from selected SD-Racks. The remaining consoles had the ability to send mixes to all available monitor busses via the CON connection, allowing the performers to hear everything they needed perfectly.
Due to the necessity of the simultaneous operation of 3 stages, close cooperation between the engineers and consoles was required so that the monitor system could be independently operated for all artists. A total of 42 mono mixes and 42 stereo mixes were available for use on wedges, side fills, drum fills, IEMs, Powerplay personal mixers, wired headphone amplifiers and musician's local mixers. All the mixes were distributed between three independent parts of the stage, with the ability to freely route signals between them.
"After we did the first mix with the extended electroacoustic system, the quality of the sound was striking and proved that DiGiCo consoles, in the hands of experienced engineers, are a perfect, quick tool for professional work," added Gigant. "With help from the Polsound technical support staff, DiGiCo's polish distributor, and our head of sound tech, Marcin Szafrański and system engineer Jakub Mikołajczak, we managed to create a complex, yet simple and reliable audio transmission network based on the Optocore protocol, to create several output mixes, a huge number of input channels and seamless cooperation with the TVP OB trucks to implement a very complex monitor system. All of this proved not only possible, but fun to work with."
Extending its existing DiGiCo system with 2 of the latest SD12 consoles equipped with Optocore and Waves cards, and new SD-Racks equipped with the latest 32-Bit Mic Pre-Amp cards also proved a good decision for Gigant Sound – Letu, as Gigant recalled. "The investment was justified," Giget concluded "and the experience gained during the Opole Song Festival will undoubtedly be helpful during the next big events we have in our plans."