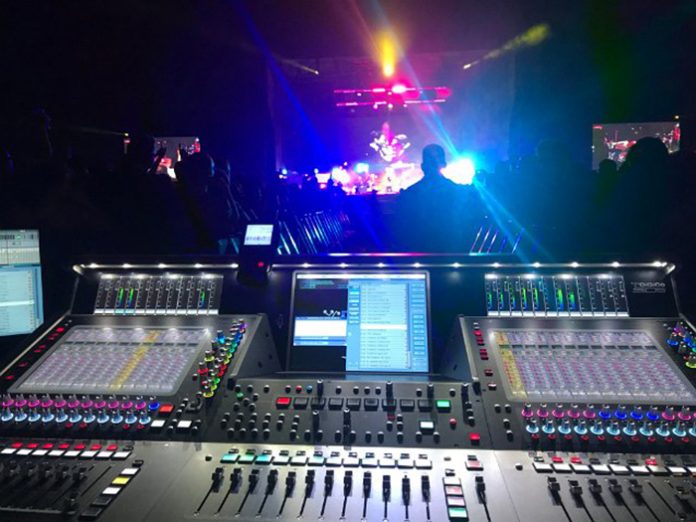 Spanish indie rock band Vetusta Morla has been touring its fourth studio album, Mismo Sitio, Distinto Lugar. For this tour, Front of House Engineer Alberto Ruiz Martinez chose to use two DiGiCo SD5 consoles, running at 96kHz, supplied by Spanish lighting and sound experts Tuá Pro. Alberto Ruiz has been relying on DiGiCo consoles since the launch of the D5, the SD5's predecessor, so there was no learning curve.
"On previous Vetusta Morla tours I used the SD10, but due to the complexity of the new album, and the amount of FX and Snapshots changes controlled by MIDI, I made the decision to use the SD5. This gives me more power to quickly and simply create a complex show.
"The SD5 can integrate seamlessly with conventional MIDI control systems via its local I/O and Thru MIDI ports and its macro Smart Key technology can be used for MIDI triggers and more. We generate a session with the Ableton live program from the stage, from which I receive a SMPTE time code track. We change the SMPTE to MTC protocol with a sound card. Once we have MIDI time code, we insert it into the MIDI input port of the SD5 and we use it to change certain values of the mixing desk via the Snapshots during the show."
Alberto Ruiz also needed to sync the console via MiDI with the stage world to allow him to replicate some of the album requirements in a live environment.
Vetusta Morla is a six-piece band with both drums. Alberto Ruiz uses 69 input channels from stage to cover everything, along with 18 internal SD5 FX Racks and 17 racks in the integrated Waves Soundgrid system. Martinez said: "We also recorded the show using the DiGiCo SD11 19-inch mixer and several DiGiCo UB MADI interfaces (hot-pluggable 48-channel USB 2.0 / MADI I/O)." He was helped with pre-tour preparation by Mateo Coll of Rental Multimedia and onsite by Alvaro Elena of Meyer Sound Spain, DiGiCo's Distributor.
For Alberto Ruiz, another stand-out aspect of the SD5 was I/O routing flexibility – facilitated by DiGiCo's Stealth Digital Processing technology, which can handle 896 optical, 168 MADI,16 Analogue I/O, and eight AES/EBU connections simultaneously.
"I am a fan of the DiGiCo SD5 because it makes the most complicated sessions an easy task," he concludes. "Sessions that would be difficult, or even impossible, to carry out with other mixing desks because of their complexity can be accomplished in a more straightforward and efficient ways with the SD5."