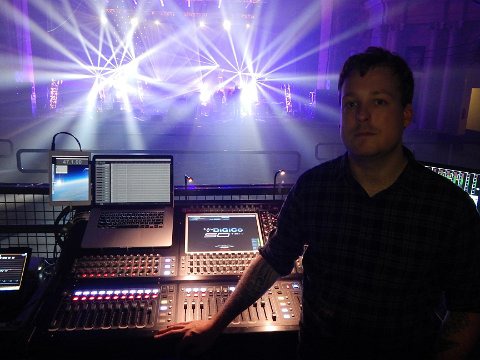 French band M83 has been touring its brand of electro-pop – and its latest album, Junk – around the world. Their audio system has been supplied by Clair Brothers since the band was big enough to take one out, said FOH Engineer Robbie Barr, with a pair DiGiCo SD10's now forming an indispensable part of the package.
Barr, initially on playback / Ableton and now mixing the show for the current album campaign, whilst Monitor Engineer Laura Davis joined them this year. Both engineers have experience with DiGiCo consoles, both are using an SD10 for the first time for the tour, and both have the latest Stealth Core 2 software which, they said, is a game changer.
"M83's sound requires a lot of detail and that was something I was finding hard to achieve on other consoles, without resorting to stacks of plugins just to get the initial tone," explained Barr. "I'd used an SD8 with a d'n'b system for a show at the 9:30 Club in Washington, DC mixing Ryn Weaver, and found that the console reacted exactly how I wanted it to out of the box, just using the built-in channel strip and DiGiTubes. So, once I heard that Davis was requesting an SD10 for this tour, I did the same."
"I chose to use the SD10 because it's so flexible and sounds great," said Davis. "Coming into rehearsals, we had no idea what we were walking in to, so to have the flexibility to expand and change things so easily was very useful." Barr noted.
Both Barr and Davis are using all 56 inputs on their SD-Racks.
"At my end, with channel doubling and FX returns, I'm running 83 channels in total," said Barr. "I love how flexible the layers on this console are. I have some channels doubled so I can widen the guitars, etc., and being able to have those channels hidden on another layer with a VCA in their place really keeps my workflow simple. I also have DiGiTubes on my parallel drum buss, bass instrument busses and guitars buss.
"As well as the SD-Rack's 56 inputs, I am also using all eight channels on my local inputs," added Barr. "On the console itself, with FX returns, etc., I am using 76 inputs in total. I have 27 outputs on my SD-Rack – 20 channels of wireless IEMs, four channels of hardwired IEMs, one for FOH shout return and two channels for wedges and drum sub."
Mixing M83 was challenging, the show being incredibly effect heavy on the vocals and on the mix buss.
"The macros have made a huge difference, allowing me to quickly punch in and out inserts and mute and un-mute sends," Barr said. "I also use them to send MIDI to my Bricasti and Lexicon units. The band know what they like to hear and what they don't. They love the sound of the console and especially the saturation we get from the DiGiTubes."
"Being able to change things and add channels so easily has been great," Barr concurred. "The band are continuously changing and adding parts and instruments. It's great to have the flexibility to change things so easily and the fact that I can have my macros set up for my mix busses and leave three banks of input faders always available is really useful."
Both Barr and Davis are delighted with the support from the DiGiCo team.
"They've really taken great care of me," Barr commented. "Upgrading to Stealth Core 2 had one or two head scratching moments with regards to Waves, but I had someone on the phone immediately and the issue was resolved very quickly." "Mark Saunders and Dave Bigg have been really great with any questions we've had," concluded Davis. "In fact, they've been great throughout the whole campaign."