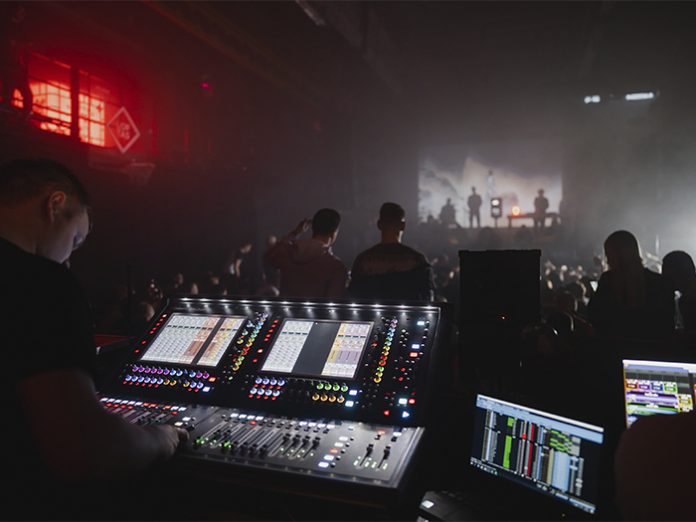 DiGiCo SD12 and S21 consoles were supplied by SONUS Exsertus, DiGiCo's distributor for the Baltics and Georgia and local rental partner NGR Service, for the return of the Dinamitas hip-hop culture festival at the Loft Art Factory in Vilnius.
Tomas Ždanovičius, Sound System Designer/Engineer at SONUS Exsertus, who also worked as a system designer and sound engineer at the Outdoor stage during the festival, explained that DiGiCo was chosen for its renowned sound quality and workflow flexibility. "It meets every sound engineer's demands and working habits," he said. "DiGiCo consoles can be found on almost every technical rider in the Lithuanian scene. For hip-hop music, dynamic multi-band EQ is a crucial feature, and DiGiCo offers plenty of these wonderful tools integrated into their SD Series consoles."
Ždanovičius further notes that because of the extensive input requirements on The Meyer Sound Stage, the main stage at the event, the SD12 was deployed for both FOH and monitors. "The console's two screens and its large capacity made it ideal to handle the two roles simultaneously," he noted. "Similarly, the S21 handled FOH and monitors for the smaller The Outdoor Stage, which had the same requirements for audio quality, but slightly lower technical demands. The SD12 was set up with Optocore and a full 56/48/4 AES out SD-Rack, while the S21 was equipped with a DMI-MADI-B and a 48/24/4 AES out D2-Rack."
The first day of the festival was dedicated to Trap, a subgenre of hip-hop music, allowing lesser-known artists to appear in the programme. The second day began with an international street dance championship called The Circle. Street dance enthusiasts and professionals from Lithuania, Poland, France, Latvia, Estonia, and Vietnam competed in a tournament across seven categories, divided into different age groups and dance styles.
One of the key highlights was the performance of the popular Lithuanian band G&G Sindikatas, who took to the main stage just before midnight on the second day. Later, Lithuanian artist Pijus Opera joined them on stage and entertained the enthusiastic crowds while the band performed their smash hit, Vokiečių gatvė (Vokiečiai Street).
SONUS also created a special backstage area for festival participants as a chillout zone with drinks and snacks where they could talk to the team about DiGiCo, amongst other things.
"Once again, the SONUS team was delighted to support such a high-profile event and bring DiGiCo's sound signature to Lithuania's biggest street culture festival," Ždanovičius concludes. "With the SD Series delivering rock-solid stability, crystal-clear sound and workflow flexibility, we can always count on DiGiCo to deliver an excellent result!"