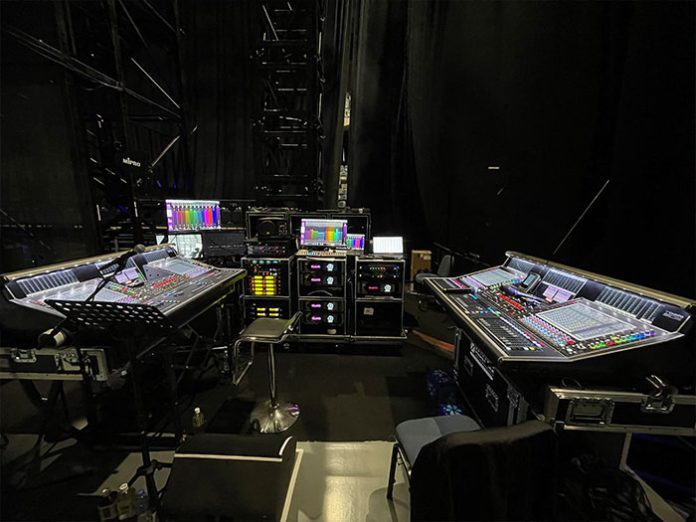 The current world tour, extending into 2024, has already broken records by selling over 109,000 tickets for the Cotai Arena and hosting 11 shows at the Singapore Indoor Stadium.  
DiGiCo Quantum5 consoles and a KLANG immersive monitor system for the tour, were provided by Rightway Audio Consultants (RAC) – DiGiCo's official distributor in China.
At the project's outset, the RAC team offered support in system design, setup, and decisions about the mixing console to be used, as well as the connectivity of the KLANG system. It was during this phase that they recommended using the Quantum5.
The set design included a thrust stage, which provided little cover for the band but a clearer view of the stage for the audience. Departing from the previous method of concealing the concert's band, the team set up a four-story platform on the main stage for a 53-piece orchestra.
"The unique nature of the live performance included a large-scale orchestra. To ensure an exceptionally high standard of audio, each instrument was individually picked up by deploying a large number of microphones, and each musician required a dedicated monitor mix capable of being controlled by themselves," commented Pan Weijie, System Engineer at Rightway Audio Consultants. "This necessitated Monitor Engineer, Mike Wong, deploying a substantial number of output busses, plus six groups of MADI outputs. The Quantum5 proved to be the ideal console for effectively managing these complexities, with a total of 175 inputs and 150 outputs being utilised."
Weijie noted that having so many musicians on stage simultaneously requires them to not only hear their own instruments, but also be aware of the other instruments being played. "This underscores the critical importance of an effective monitoring system," he explained. "That is why we employed 55 KLANG:kontrollers and five KLANG:konductors, creating an immersive personal monitoring system for the 53-piece orchestra. This marks the first deployment of such a large KLANG system in the Asia-Pacific region!"
With the integration of KLANG, the feeling of being sonically isolated is eliminated and effectively brings the feeling of a natural, acoustic environment into the headphone mixes. "This results in heightened clarity for each instrument's sound," Weijie added. "It also helped to reduce the players' hearing fatigue and the need for high monitoring volumes, thereby significantly improving hearing protection."
In addition, the objects could be visualised in the KLANG:app interface, enabling intuitive yet precise positioning of instruments by simply dragging the icons, offering the musicians naturalness and flexibility in shaping the sound within their individual in-ear monitors. Quantum5 consoles were employed for both FOH and monitors, with the latter benefitting from DiGiCo's seamless integration with KLANG.
Li Wenxi, RAC's Senior System Engineer was on hand for monitoring support during live performances at Cotai Arena and was delighted with the Quantum 5's performance. "I love its reliability and security," he concluded. "The Quantum5 facilitates interface control and information interaction between DiGiCo and KLANG, granting musicians greater room for their personal mixes. Boasting over 250 channels, it can satisfy the needs of musicians and singers at the same time. After several concerts, the engineers become very proficient with the Quantum5s. Thanks to the powerful DiGiCo and KLANG setup and its intuitive interface, we have established a highly efficient solution which has worked exceptionally for the Jacky Cheung 60+ Concert Tour!"