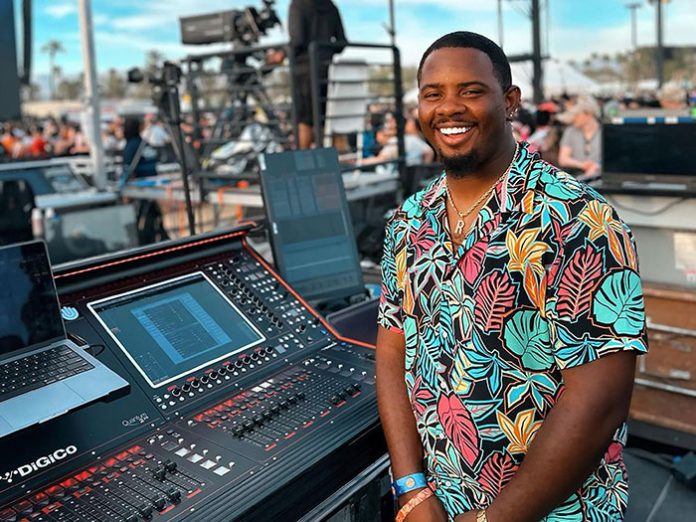 FOH Engineer Ricky Ashford, who has been working with Rosalía for almost two years, has relied on a DiGiCo Quantum 338 and Quantum 225 digital mixing console for her latest Motomami world tour, which took in 68 dates at stadiums and arenas in Europe, Latin America, and North America.
"I've been using the Quantum 338 since the console's release three years ago," commented Ashford. "For the second phase of the Motomami tour, we utilised the Q338 alongside its slimmed down version Quantum 225, with the Q225 also offering us as much channel count and robustness as we need for Rosalía."
"I also appreciate the transparency that their consoles provide," he elaborated, adding, "Whatever you put in comes out exactly as intended. Other mixing consoles often have coloration or are tailored to a specific sound. If that's what you want, it's perfectly fine, especially if you're seeking a particular type of pre-amp sound, for instance. However, I prefer to work with a clean canvas, free from any colouration or external influence. That's one of the things I genuinely love about DiGiCo desks."
Ashford also appreciates the speed of the Quantum engine. "I like the SD Series, but Quantum is just so much faster," he exclaimed. "The desk offers a vast dynamic range. Input-wise, as soon as you introduce something into it, it feels much more refined and crystal clear, almost like upgrading from a 1080p image to 4K resolution, which is incredibly helpful for fidelity and ensuring the sound is exceptionally clear and precise."
Regarding the choice of the console for Rosalia, Ashford explains that the decision to use DiGiCo was his own and was also supported by the management and production teams. "After getting the gig, I spent a week with Rosalía's studio engineer to get a sense of her sound," he shared. "After that, I had the free reign to do what I wanted. Since there were no rehearsals for me to coordinate with the singer, I had to plan everything very carefully." 
The audio setup for the tour included 60 inputs, 24 channels of playback, eight talkbacks, and four microphones, including the main microphone and two guest microphones, along with six audience microphones. In addition, Rosalía utilised 12 channels for keyboards, and there is also a grand piano in the middle of the stage for her solos, plus a guitar, and a keyboard player who incorporated an organ and other keyboards.
Ashford explained that he got "goosebumps" at some of the shows due to the energy in the room. "We didn't have an audience of fewer than 50 or 60 thousand people."
Among Ashford's favourite Quantum attributes are the Mustard and Spice Racks and the EQs. "On other desks, I've had to make extensive adjustments to get the result I needed," he explained. "With the Quantums, I only have to do a fraction of the work to achieve the outcome I need. They provide me with greater dynamic range and more room to work. One feature I prioritise is Snapshots – I use multiple Snapshots in some songs. I also synchronise everything with timecode as I don't like to freehand my shows. I've made it a point to be as precise with my sound as the lighting team is with the lights. If the show has SMPTE, I like to timecode the entire performance, allowing me to stay in sync with everyone."
Having known Matt Larson and Taidus Villandi from the DiGiCo US team since his days at the Full Sail University, Ashford noted that he has consistently received support from them and the rest of the DiGiCo team and knows he can reach out to them at any time. 
The tour saw Rosalia reach a cumulative audience of over two million fans across three continents. At her final show at Lollapalooza Paris 2023, she delivered an emotional speech to her fans. It was also a significant moment for Ashford and validated his commitment to using DiGiCo consoles. 
"The Quantum allows me to do everything I want with it. It's all about creative freedom and being able to 'paint' with sound. It's a fantastic console, and the only one I want to work on," he concluded, confirming that they will be using DiGiCo consoles for the Latin Grammys in Spain in November.