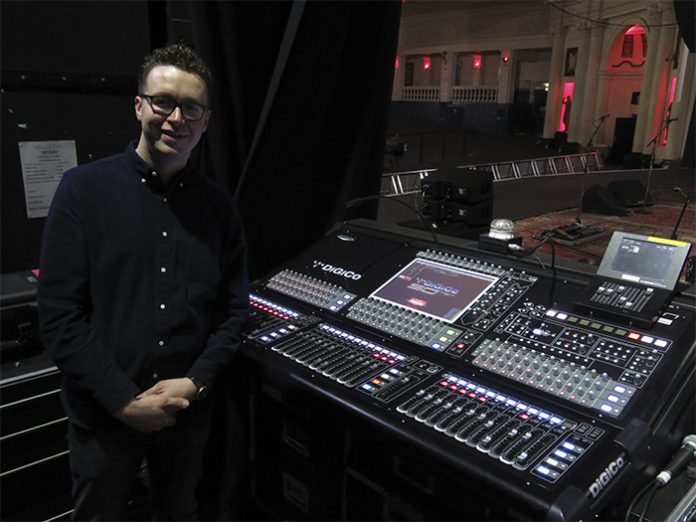 During Niall Horan's 2018 US tour, Live Engineers, Joe Harling and Daniel Kent, utilised DiGiCo consoles, provided by UK rental company Wigwam Hire, to create mixes.
"I have always favoured front of house mixing. I don't have the technical chops, or strength of character, to do monitors… I'd probably end up crying if I did!" exclaimed FOH Engineer, Joe Harling.
As with any engineer at this level, the working relationship with the artist is crucial – and Harling cites Horan as fantastic to work with.
"He does take an interest in the sound, he has very good ears, and is able to express himself very well," said Harling. "He expects things to be right, but also sees the bigger picture, and is totally calm around technical problems."
Harling and Monitor Engineer, Daniel Kent, both work from DiGiCo SD10s, running at 48kHz, and sharing stage racks.
"It was agreed with production that this was an acceptable price point and weight allowance for freighting control around the world; and the SD10 does absolutely everything we need," Harling explained. "I have mainly worked with DiGiCo over the last few years, as I have mostly been mixing pop music, and DiGiCo is pretty ubiquitous in this genre."
Harling is quite hands-on with his mixing, and while he does use Snapshots, very few parameters are in the scope for most channels.
"This gig isn't very channel intensive," he confirmed. "I think we have about 56 inputs from stage, spread across mono and stereo channels; and, of course, there are some FX returns on top of that. I use a couple of reverbs, and a delay; and I am running Waves externally on a Mac Mini via a DiGiGrid MGB, and I'm using quite a lot of plugins for some different flavours of compression, some dynamic EQ for problem fixing, and a few FX."
Monitor Engineer, Daniel Kent, said it has been a pleasure to work with an artist as talented and focused as Horan.
"For a young artist, he has played to more people than most bands might do over a long career; he understands why rooms sound different day-to-day and are very good at articulating what he needs," said Kent. "He is not overly technical in his description, but interpreting his requests is my job. When he first said 'there are some haunting frequencies in here', I was a little taken aback!"
Like Harling, Kent is also hands-on with his mixing.
"No two gigs are the same; I run a Snapshot or two for each song, but I'm not utilising timecode for this tour," he said. "I mix Niall from the master buss and have my hands on the VCAs for him for the whole show, so the band's needs are mostly taken care of via the Snapshots. I have a couple of Macros to help me out and I also use the notes feature on the desk. The channel count soon adds up when you take into account talkback mics, FX returns, etc, so I am probably running around 96 input paths."