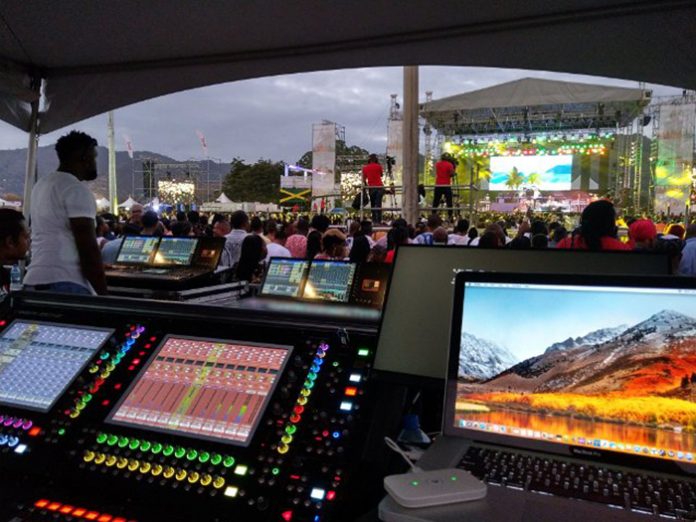 Trinidad and Tobago-based Rent A Amp Sound Co (RAA) took delivery of an SD10 and SD12, the first DiGiCo consoles to permanently reside in the Caribbean. The purchase, made through local sales and rental company Caribbean AV/AMR, followed multiple requests for DiGiCo consoles on local events.
The SD12's first outing was on the I Am Legend concert at the end of April, which attracted an estimated audience of 28,000. Headlined by Jamaican musician Buju Banton, this was the follow up to his Long Walk to Freedom concert in March which marked his release from an eight-year jail sentence and his return to the Caribbean music scene. The console was deployed for local artists Ziggy Ranking, Ataklan, Isasha and Kes the Band, plus Caribbean artists Wayne Wonder, Koffee and Luciano, as well as Banton himself. With both the SD12 and SD10 also booked for the Tobago Jazz Festival just a couple of days later, RAA's decision to invest in DiGiCo was immediately justified.
"Both RAA and artist engineers used the SD12 during the I Am Legend concert, with the RAA engineers having been trained by DiGiCo's Dave Bigg, who flew over the week before the show," recalls Vice President at AMR Fabien Bareille.
"Setup was done during soundcheck for each band and saved to the console. RAA's engineers enjoyed mixing on the SD12 and the artists' engineers were pleased with the results, too. As an added bonus, Dave stayed for the concert to provide support. We didn't really need him, as everything went very well, but having him there gave the RAA team a real sense of comfort," added Bareille.
"It was fantastic to have Dave around for the first event," adds RAA's Frank Agarrat. "His knowledge was invaluable, and he was able to point us in the right direction from time to time."
For the Tobago Jazz Festival, both consoles were deployed with the SD12 and SD10 at front of house and monitors for Tony Braxton and the SD10 for Michael Bolton's monitors mix. A basic 56 input was used for all the bands, with a mixture of mono and stereo channels, and the shows were recorded from the SD12 via MADI.
"As engineers travel and get used to the quality of DiGiCo they continue to be increasingly requested," Agarrat continues. "The SD12 is in a price bracket that is affordable for rental companies like RAA that work throughout the Caribbean and service festivals that involve international artists."
"A lot of the engineers who have found out about DiGiCo arriving in the Caribbean have asked us to arrange a DiGiCo seminar as soon as possible," concludes Bareille. "We hope Dave will be OK for a second visit to Trinidad sometime before the end of the year!"