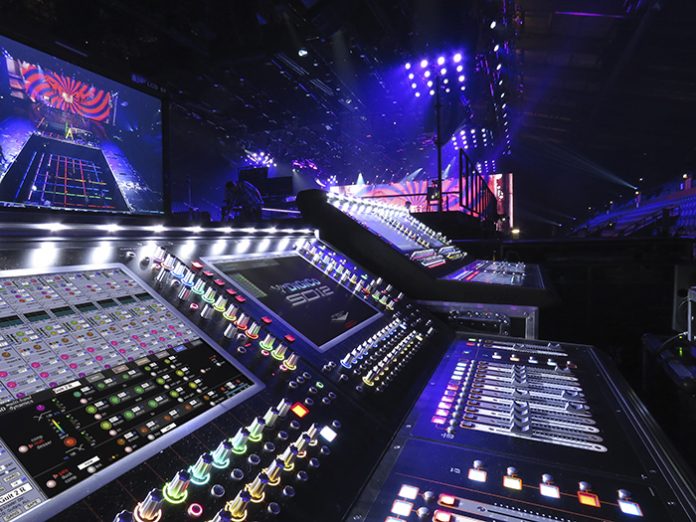 It had been more than 20 years since the EMAs descended on London, but it certainly did not look or sound that way at the SSE Arena on 12 November, 2017. Hosted by Rita Ora, the production was in the safe hands of long-time MTV audio supplier, Britannia Row, whose specification this time around was dominated by a DiGiCo console.
After more than 2 decades of working with the EMAs, Britannia Row's console deployment was condensed mainly to DiGiCo consoles. The prime reason for this, according to Company Director, Lez Dwight, is that DiGiCo has the clear market share on both sides of the pond.
"We have a long-standing relationship with DiGiCo, and find the technical support and service absolutely world class," Dwight explained. "MTV is always a challenge from a technical perspective, and this year was no exception; the performance area covered the entire arena floor, but this area was also built up off the floor by 4.75m, giving room for large lifts and sub stage space. We had 3 separate locations for monitor desks, RF, and FOH, and the 5 DiGiCo SD Racks and fibre loop capabilities helped us to achieve this."
There were 2 SD7s were assigned to monitors, with 3 DiGiCo SD5s at FOH – 2 for the show, 1 for prep – and the presenters and guests all went through 2 DiGiCo SD12s. Every artist on the night, barring The Killers, used DiGiCo, and it was a very smooth operation all round. "It was a spectacular show from an audio and visual standpoint," said Dwight. "14 acts performed in just 2 hours without any issue, but really that's just another day in the office for our stellar crew, led by Pete McGlynn."
It was, as usual, very much an international affair, with performances on the night from a string of eclectic artists including Eminem, Stormzy, U2, Demi Lovato, Kesha, David Guetta, and Camila Cabello.
"The EMA audio team did a great job keeping up with what was, from what I saw, a busy schedule," said Camila Cabello's FOH and production manager, Ryan Cecil. "Colin Pink and the whole Brit Row crew were a pleasure to work with and took great care of us. It's always fantastic to be able to walk in, dial in your EQ preset, load up a stock DiGiCo reverb, and know your artist will be hearing the same sound as they are on tour, even though it's on a completely separate system. The SD7 and onsite support from [DiGiCo's] Mark Saunders makes shows like this so easy for me, every time."