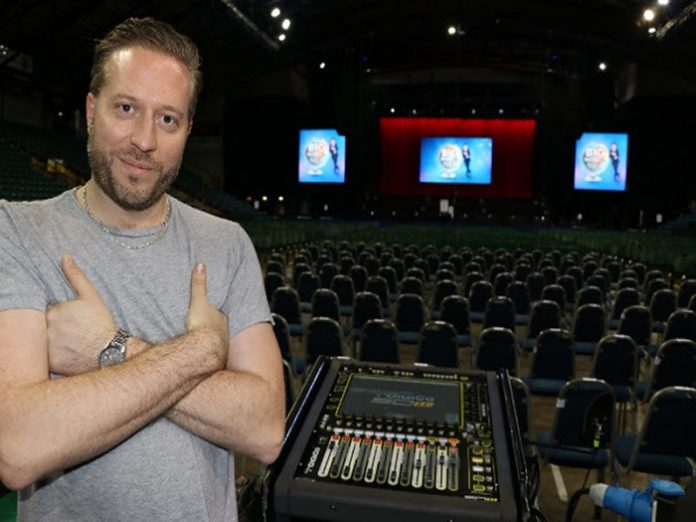 Michael McIntyre's Big World Tour is selling out arenas around the world. For Steve Carr, McIntyre's Front of House engineer, the perfect choice is the DiGiCo SD11, supplied by audio rental company Capital Sound for the UK and Ireland leg of the tour.
"The SD11 has all the wonderful features of the larger consoles in the DiGiCo SD Range in a really compact, lightweight format, and that's important on several levels," Carr said.
"We use the DiGiCo SD11 because we don't need a large surface to handle the show. It's also great for the truck pack, it's great for the service provider because it's relatively inexpensive to hire out, and it offers a similar sound quality and power to the larger desks in the SD Range."
Carr has been using DiGiCo since the SD Range was launched, first touring with the flagship SD7, then spec'ing the DiGiCo SD11 around seven years ago when he was project managing and babysitting FOH at festivals, using it for an auxiliary desk for music and DJs.
"I became really familiar with the desk then," he continued. "It's a great workhorse and the sound quality is great. Ideally, I'd like to use SD Rack, but the DiGi-Rack I'm using for the tour works well for me."
One feature Carr is really enjoying on the DiGiCo SD11 is its onboard Dynamic EQ, which he uses across Inputs and Groups.
"His vocal range is huge; there are moments in the show where he's practically whispering and times when he gets incredibly loud. Dynamic EQ really helps me there, because it only kicks in when he starts to hit those frequencies that are problematic."
Steve also has an additional DiGiCo SD11 which lives on stage left which acts as a through desk for McIntyre's foldback and a line check desk. Using a DiGiCo Little Red Box to connect the two desks together so they can share one stage rack.
---
Read TPi's coverage of Michael Mcintyre's Big World Tour.