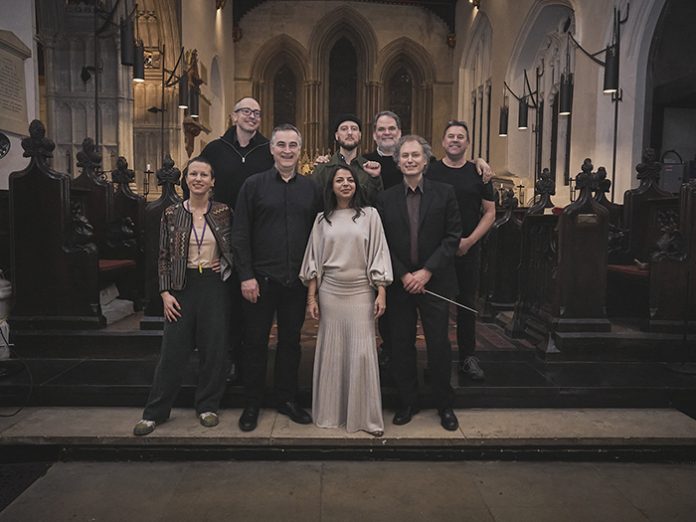 Several years in the making, Harmony of The Worlds, composed by Satya Hinduja, began as a visionary notion of spatialising and immersing sound all around an audience. What started with an Orchestra of eight and just four singers, quickly tripled and grew again, artistically combining the Royal Philharmonic Orchestra, a choir, and hundreds of pre-recorded sounds to totally immerse its audience in 360 degrees of musical wellness. The DiGiCo Quantum 7 was the only digital mixing console on the market with the flexibility and technical capabilities to handle such a project, and controlled by Sound Engineer, Mark Rogers.
Harmony of The Worlds, conducted by David Murphy, was a free concert held at St Mary's Church, Luton, created and composed by Satya Hinduja to explore the connection between music and human wellness. The truly remarkable arrangement of Hinduja's composition, 'Essence, 136.10Hz – The Earth's Primal Frequency', with Beethoven's Symphony No. 6 beautifully encompassed as an interlude, was designed to immerse listeners within the Earth's resonance and embody the annual journey of the Earth around the sun through sound.
Mark Rogers, Sound Designer and Engineer, began working with Southby Productions on the project in November 2022, when the composition was already complex. "It was over a hundred tracks of pre-recorded material, sample sounds and electronic sounds, playing off of Logic Pro. So, when we added in the orchestra and choir on top of this, it became a bit of a challenge," Rogers recalls.
During a week of workshops, developing and experimenting with the composition, it became clear to Rogers and Hinduja that bringing it all together would demand equipment of the highest calibre. "When we were looking, I remember having a discussion with Chris Jones [of Southby Productions] about what desks we would use," Rogers continued. "I know DiGiCo consoles really well and I like them, so I was happy to use them. Originally, we were looking at a Quantum 338, but we rapidly came to the conclusion that this was just not going to be big enough for the scale of the operation." Not only was the Quantum 7 Rogers' professional and preferred choice, but it was also the only mixing console capable of a performance of this scale. "I think we ended up with 74 auxes on the console, which not many consoles are capable of," he says. "When Chris said there was a budget for a Quantum 7, I said 'yes, please!' I can't imagine how we could have done it otherwise, frankly it made the job possible."
Influenced by the metaphysical Hindu Concept of Nada Brahma (the primal sound of being), Satya Hinduja creates Alchemic Sonic Environments (ASE), site specific, multi-sensory deep listening experiences designed to invoke states of reflection, receptivity, and exchange through the power of sound. Harmony of The Worlds displayed this intention by captivating the audience through 360 degrees of musical artistry. Rogers understands the visionary Hinduja is. "With the Quantum 7, whatever you're doing, you know it's going to be able to handle whatever you throw at it, and however you want to set it up," he recalls. "I wanted a console where I can get to what I need within two seconds and be able to realise Satya's vision quickly. It was brilliant and made the job an absolute pleasure."
The concert featured the 24 singers of Synergy Vocals dispersed all the way round the Church, intertwined with an orchestra, loudspeakers, and the audience themselves. "Because we had about 180 sources of sound, this is where the Quantum 7 came into its own," Rogers explains. "It was pretty much a singer, a loudspeaker, a singer, a loudspeaker, all the way around. We decided the practical solution was to have some of the pre-recorded tracks sub-mixed in Logic, which would send feeds into the desk inputs, which would then feed into the auxiliary buses."
With such a complex arrangement, anticipating challenges is always wise, and Rogers found the capabilities of the Quantum 7 removed any challenges that could get in the way of the performance. "The workflow genuinely affects the sound because of the way it encourages you to work and be creative," he explains. "I really like the workflow [on the Quantum 7], and I find it fast. Having 24 faders in the centre section for Control Groups is just brilliant. You can never have enough Control Groups as far as I'm concerned and having such quick access to them is brilliant. It makes it fast to get to what you need to solve a problem."
Southby Productions has provided high-end, boutique sound experiences for its clients for over a decade, and is no stranger to last-minute requests and tweaks, but with the added intricacy of real-time live mixing to produce Harmony of The Worlds, it was essential the selected equipment was up to the task. "You want to put your effort into pleasing and working with your client, and meeting their creative dreams and needs," Rogers stated. "You don't want to spend your time faffing around with the gear." Not only was the ease of use welcomed, but the Quantum 7 also allowed for more than even the creative vision of Hinduja could have hoped for. "We had another advantage with DiGiCo," Rogers boasted. "We mixed and recorded everything, so Satya has taken away the multi-tracks we recorded in Luton, and she and her engineers in the US have continued to work with it," he continues. "We also recorded it at Abbey Road Studios."
Saturday 7th January 2023 saw guests totally immersed in Harmony of The Worlds, the product of an orchestra, a choir, and hundreds of sources of sound coming together to create an environment where the audience discovers its connection to the Earth's resonance through sound, accessing a new perspective and embracing their inner selves. With the generosity of the Quantum 7's technical prowess, the performance of Harmony of The Worlds was captured and will be able to enchant listeners for years to come.