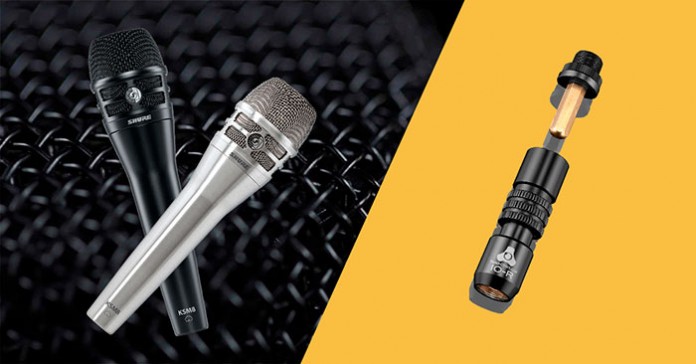 "De Mens" is a Belgian rock band, formed in 1992 who mainly make Dutch songs. The band consists of four members: Frank Vander Linden (vocals, guitar), Michel De Coster (bass guitar), Dirk Jans (drums, vocals) and David Poltrock (keyboards). Sound technician, Tom Janssen, advised Vander Linden to look for a microphone of his own and after having played some shows with the Shure KSM8, FACE provided him with this revolutionary dynamic microphone for his personal use.
The Shure KSM8 is the first ever dual-diaphragm dynamic handheld microphone specially suited for high-end vocal reproduction and sound-reinforcement control. The Dualdyne cartridge eliminates proximity effect, masters off-axis rejection and provides signal clarity and feedback control.
During their theatre tour, Vander Linden was using a demo unit of the Shure KSM8. After their first concert, Vander Linden was very excited about the good sound of the microphone. Their theatre tour consists of two parts; an acoustic part and a more "rock and roll" part. The KSM8 is able to make both parts sound great. Vander Linden chose the KSM8 with a brushed nickel finish because it gives him a seventies feeling.
Vander Linden explained: "I have a very low voice, but the KSM8 makes my voice sounds very clear. At our first show with this microphone, I immediately heard a difference. I like the sound of the KSM8, especially because the sound blends perfectly with the music we make. My voice has its ups-and-downs and even in a worse moment, the KSM8 does its job. My voice sounds very clear as well as the melodies, which gives me confidence as a singer."