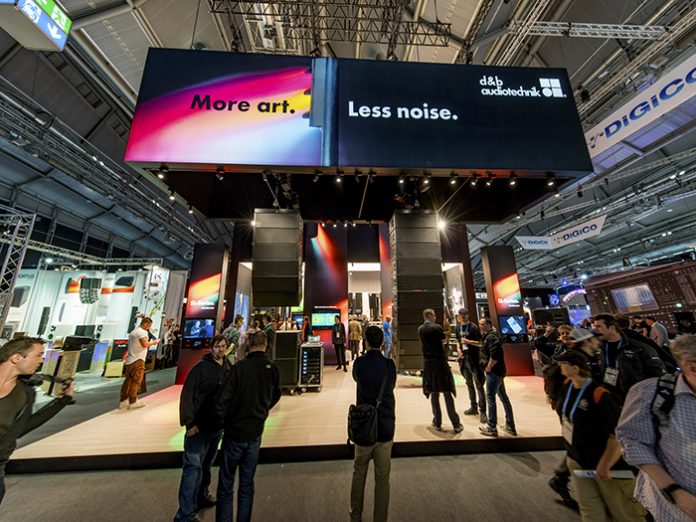 d&b audiotechnik revealed the next major steps in audio technology evolution during the recent Prolight + Sound 2018 at Messe Frankfurt.
The official launchpad for the GSL System from the SL-Series, a new loudspeaker system sitting right at the top of the company's product portfolio, Prolight + Sound 2018 was home to demos and interactive mixing session using the recently released d&b Soundscape.
d&b audiotechnik took the opportunity to announced a series of landmark integrations between Soundscape's central DS100 Signal Engine and digital mixing consoles from leading manufacturers DiGiCo, Avid and Lawo. With integrations announced at a live mixing session showcasing console workflows and mixing live multitrack recordings.
The d&b audiotechnik GSL System created quite a buzz throughout the show. Prolight + Sound Attendees had multiple opportunities to experience the d&b Soundscape, with 2 different Soundscape Sessions; The Soundscape Mixing Session and The d&b audiotechnik Soundscape Sessions. The daily d&b audiotechnik Soundscape Mixing Sessions with Serge Grafe, Kraftwerk FoH, were a big success, as guests were keen to learn more about the process of developing a creative concept for a mix using d&b Soundscape.
"Prolight + Sound  has been a fantastic opportunity to officially introduce the next generation of d&b line array to the market." David Claringbold, d&b audiotechnik Chief Marketing Officer, commented: "Birthing the SL-Series and Soundscape has changed d&b forever. The resilience, innovation and capacity of the organisation has been tested at every point, and from this we have learnt and grown. This is the finale of a multi-year development phase and the kick-off for a perennial journey of these two outstanding audio technology innovations."
Prolight + Sound and the official release of the SL-Series, GSL System was the next step in the d&b evolution of loudspeakers, and continues the new era of sound experience.