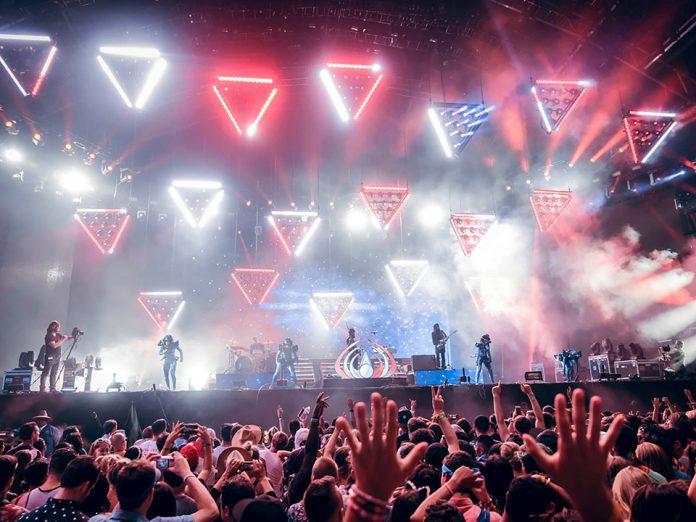 Empire of the Sun catapulted to international stardom in 2008 with their multi-platinum hit "Walking on a Dream." It was a very fitting title, for the song and the band. Blending an ethereal sound with stage visuals that resemble something out of a fantasy game, the Australian duo make it easy for audiences to take a temporary leave from reality and enter an uplifting world of imagination.
This transcendental quality was on full display on 14th April, when Empire of the Sun appeared on the Coachella Festival's Sahara Stage. Dressed in flowing, futuristic silky black outfits and backed by robot dancers, the duo performed on a stage adorned with glowing pyramids and a six-pronged silver statue cradling a primordial white orb. Illuminating the fantastical scene with brilliant white light and vivid colours was a lightshow that Dave Taylor programmed and controlled with the ChamSys MagicQ MQ500 Stadium.
Taylor used over 1,200 different light fixtures and 3,000 channels of LED tape in his 86-active-universe show. In addition to his ChamSys console, he relied on a SnakeSys R8 eight-universe Ethernet to DMX converter, a SnakeSys R4 multi-purpose network distribution node, and two SnakeSys B4 four-universe DMX to Ethernet converters to run his massive rig.
"There was no shortage of lighting on this one," said Taylor. "Empire of the Sun is always pushing the boundaries, not just musically but visually. They're constantly searching for images that move people in new ways. Our show continues to build and, as a designer, I'm constantly evolving with it. This is the first time I used the MagicQ MQ500 Stadium, since it's new. This is really the next step in controllers for me, kind of a natural progression. It enabled me to create the ideal workspace for myself to program and control the show."
The speed and flexibility of the ChamSys MagicQ MQ500 Stadium made it easier for Taylor to pre-program the intricately detailed show. "Doing your homework is 90% of the gig when you have a show like this," he said. "The ChamSys platform makes this task simpler with the excellent speed that it has when patching and manipulating fixtures. When you pair the console's internal morphing and cloning capabilities with features like multi-patch, quick offset options and powerful pixel mappers, you find it quick and easy to build a solid foundation that can be adapted to different venues."
This pre-programming notwithstanding, there were also quite a few last-minute adjustments that had to be made to the Empire of the Sun show for Coachella, because of the band's ceaseless quest to incorporate new ideas. "We all constantly push the envelope, so there were a number of new elements added in the lead up to this show," said Taylor. "In fact, we were still building LED systems into the set pieces in the days just before Coachella. As is often the case, time is in short supply when the show approaches, so bringing it all to life at the eleventh hour was a challenge."
The user-friendly features of the ChamSys MagicQ MQ500 Stadium made it easier for Taylor to meet this challenge. "This is a very efficient console," he said. "I'm extremely impressed with the advanced power of the on-board processing. We were able to output a large number of universes directly from the console without the need for any external processing nodes."
Video played a key role in Taylor's design. He ran video content out of his rig on stage. "This method of running video content is a great way to approach our setup for Empire of the Sun, because the time available to us out the front is often very limited and changeovers can be very tight," he said.
Although the video content for the show was all time coded, Taylor ran his ChamSys console live during Coachella. "I have a great deal of fun punting," he said. "Empire of the Sun is constantly making changes to visual elements leading up to the show, so there are still a number of live modifications throughout the performance that must be made to account for these new twists. This is great, though, because as a lighting designer you want to be part of the live performance."