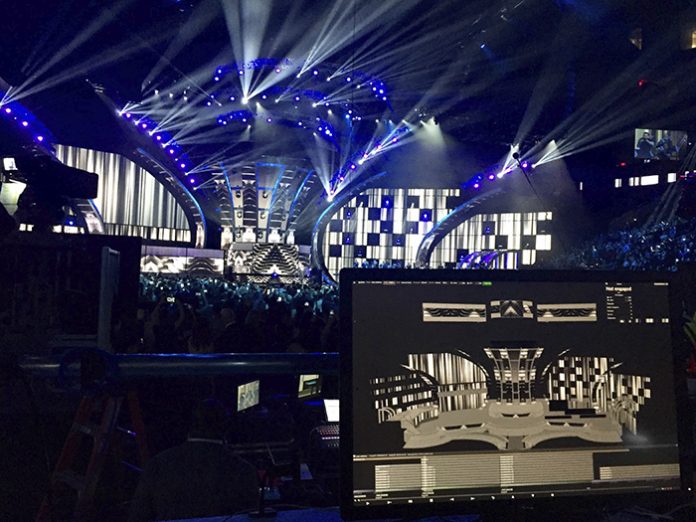 The 17th Annual Latin Grammy Awards show from T-Mobile Arena, in Las Vegas, celebrated winners across a broad spectrum of Latin music. The abundance of performances were on a colourful stage set, supported by five 4x4pro media servers from d3 Technologies.
Set Designer Jorge Dominguez and Creative Director of Content Bianca Moncada from Darmah Studio teamed up with Media Server Programmer and Content Specification Coordinator Laura Frank of Luminous FX to bring the stage to life.
Regarding Dominguez' design, Frank commented: "He finds ways to break the planar aspect of LED walls with curved elements and broken screens punctuated by voids and lighting. We had two projection surfaces and 80 wall components, including curved columns of LEDs."
VER supplied the projection and playback equipment, LEDs and four d3 4x4pros, with Darmah supplying an additional d3 4x4pro.
"Chema Menéndez from Darmah's team programmed and sequenced content on the d3 timeline, whilst I programmed Sock Puppet for the host looks and a few performances," added Frank.
d3's QuickCal toolset was used for the special duet between Jennifer Lopez and Marc Anthony and Notch software rendered content in realtime for the performance.
"The advantages of being able to work ahead on content prepro, using d3's timeline and taking advantage of all the design tools and visualising features, saves time and avoids many hours of content re-renderings on site," said Moncada.