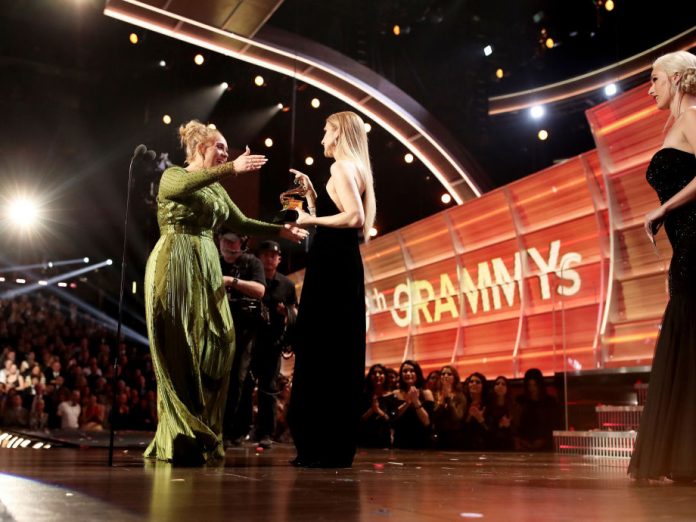 59th Annual Grammy Awards
For the Grammy Awards, which was broadcast live from the Staples Centre in Los Angeles, d3 media servers delivered high-impact visuals that matched dynamic performances by the night's top winner Adele and other leading artists. On the show's two main stages seven high-resolution LED walls were complemented by LED scenic units and big walls that moved in from left or right to close down or open up the full expanse of the stage. The "close downs" themselves acted as projection surfaces throughout the show.
3 d3 4x4pros with SDI VFC cards were deployed along with 2 2x2plus systems, one a pure master and the other an understudy. The media servers, provided by E-Ticket Studios, Inc., were chosen for their content management features, media mapping abilities and industry-leading real time simulation.
In addition to their creative capabilities, the d3 media servers also streamlined equipment requirements due to their compact size. By providing a lot of outputs in a tiny footprint, d3 was able to reduce ten or more rack cases of gear used in past years to just two or three this year.
37th Annual Brit Awards
The iconic pop music Brit Awards, broadcast live from London's O2 Arena, once again used d3 media servers to video map an extensive array of content. 3 4×4 pros were selected by Ogle Hog for the show. Their pre-visualization features playing a significant part in the process: The main stage screens, catwalks, a second stage, Kabuki drop and roller screens were all modelled and set up in d3.
In addition, Notch integration was deployed to import real time camera effects treatments, and the Mappings feature proved a powerful tool for managing the way content was displayed across the available screens in the system.
EE British Academy Film Awards (BAFTAs)
This year's EE British Academy Film Awards (BAFTAs), televised from London's Royal Albert Hall, featured a sculptural visual design by Bluman Associates, the newest d3 Studio Partner in the UK.
The production design included 62 low-resolution LED screens of different shapes and sizes rigged in a three-dimensional space. This created a more geometric and eye-catching experience than the scenic LED panels of past years.
Bluman Associates pre-visualized the design using d3 software and VR headset, which enabled clients EE and BAFTA to get a tangible and realistic sense of the experience before signing off on it. The d3 system facilitated the creative workflow allowing Bluman to map content across all 62 screens in 3D, something that would have been difficult to achieve with other motion graphics tools.
41st Laurence Olivier Awards
British theatre's coveted Laurence Olivier Awards moved to the Royal Albert Hall this year where Blue-I Theatre Technology chose d3 media servers as integral parts of their toolkit. Two 2x4pros supplied both the previs and the video outputs required for the event, which featured six static screens and a dynamic main screen on stage.
Blue-I Theatre Technology recently added d3's new 2x4pro to their existing 4x4pro fleet. The new media servers offer d3's powerful suite of features to projects, which vary in technical size and scope. For the Olivier Awards, the 2x4pros played an important role in previs, as rehearsal time was limited, and provided low latency for the show's live feeds, which enabled Blue-I to eliminate additional video processing.
Blue Dragon Awards
BasicTech used the d3 4x4pro & VFC cards for their impressive visual work on the 37th edition of the Blue Dragon Film Awards, held in Seoul, in November.
iHeartRadio Music Awards
In March, the iHeartRadio Music Awards, held at The Forum in Inglewood, California, celebrated popular artists and music as determined by the network's listeners and was broadcast live on cable's TBS, TNT and truTV networks. Laura Frank, Luminous FX, and Lux Machina came together for the creative and technical vision, using d3's 4x4pro to drive content.
MTV Movie Awards
The 2017 MTV Movie and TV Award, held at the Shrine Auditorium in LA, California, U.S. earlier this month, saw Phil Galler, Lux Machina, also using the d3 4x4pro for the 26th edition of the ceremony.
Undoubtedly, d3 media servers have been the winning choice for awards shows with increasingly complex and dynamic media requirements. Sarah Cox, d3's Regional Sales Manager EMEA, added 'we'd like to thank our community and partners worldwide for a great award season in 2017. We're now looking forward to seeing what will be creatively achieved at next year's ceremonies.'