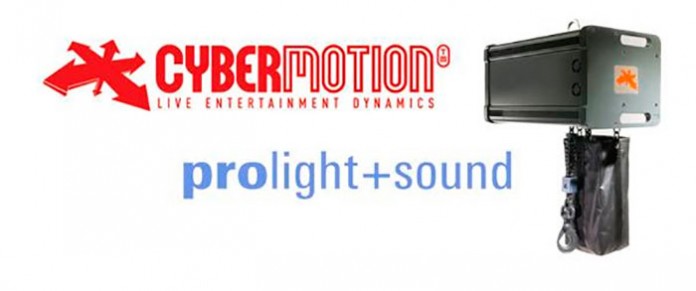 Entertainment motion control systems expert XLNT Advanced Technologies is exhibiting its CyberHoist II system at ProLight + Sound Frankfurt in Hall 3.0, Booth G73.
The ultimate variable speed chain hoist system, CyberHoist II features reliability; smooth, silent and accurate operation; phenomenal speed control and safety. CyberHoist II has been specifically designed to manage and accommodate the creative, logistical and physical rigours of automation design for entertainment environments, large-scale events and touring.
"We are looking forward to demonstrating the CyberHoist II system in live presentations throughout ProLight + Sound," said XLNT's Director of Sales and Marketing, Marc van der Wel. "We invite show visitors to come and talk to our knowledgeable and qualified team of sales and application engineers in Hall 3.0, Booth #G73, a new location since the show's new set-up this year. As ever we're keen to discuss their latest project's requirements, demo our products and answer any questions people may have."
In addition to CyberHoist II's signature strength, smooth operation, intuitive plug and play interface and compact all-in-one design, under its hood is a range of improved software and hardware features, each constantly steered by XLNT's valued customer feedback.
The CyberHoist II CH528 (2015) enables a show designer to create precise, complex 2D and 3D movements at variable speed, with multiple actuators in single, group or subgroup formations. CyberHoist II embraces EN61508/SIL 3 compliant technology, controlled by CyberMotion's MotionCue3D Performance Console. It is also compliant with other applicable international safety standards and codes of practice. It includes all top-notch options, such as dual channel load cell and bi-channel high-speed communication including actual load and status information from hoists and programmed objects to the operator.
CyberMotion is proud to announce that it will be Official Technical Event Supplier for Motion Control for the Eurovision Song Contest for the seventh year running. This year taking place in Stockholm, Eurovision is Europe's biggest television event where an extensive system comprising more than 80 active CyberHoist II hoists will be running the show's complex automation demands. The system will be supplied by lighting, rigging and motion control supplier [LITE]COM, who invested heavily in CyberHoist II systems for Eurovision plus a range of other events.
In addition, CyberMotion is proud to be this year's motion control sponsor of the AV Alliance, the world's leading event technology rental specialists network, committed to world wide available service and quality at the highest possible level. With 75 members at 103 locations in 47 countries, across six continents, the AV Alliance represents 5,733 employees working on 100,248 projects per year from 339,614 sq metres of warehouse space.