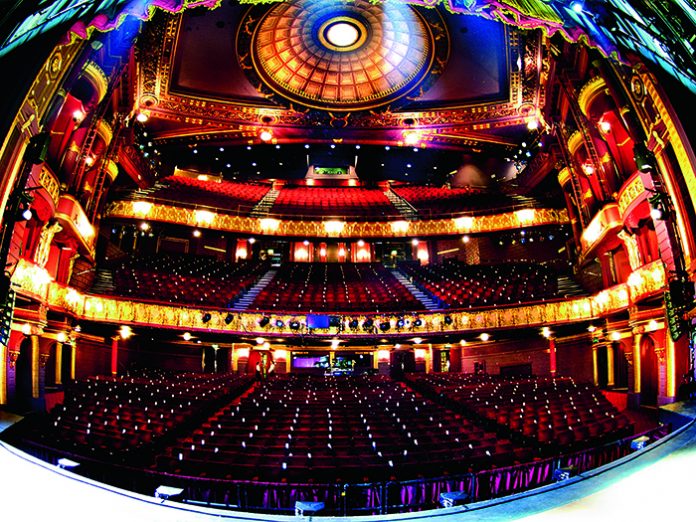 With French loudspeaker manufacturer Nexo leading the way for economically viable touring theatre productions, TPi's Kelly Murray speaks to the audio team behind its latest outing, Footloose, about system preferences for touring sound designs and the skills required to maintain them on the road.
Produced by award-winning team Dean Pitchford and Walter Bobbie at Sell A Door Theatre Company, producers of Avenue Q and American Idiot, Footloose the musical has once again been reinvented for a UK theatre run. TPi caught the actor / musician show staring Gareth Gates and Maureen Nolan at Manchester's Palace Theatre to speak to Sound Designer Chris Whybrow, rental partner Chris Headlam of Orbital Sound and Touring Head of Sound, Piers Archer.
Whybrow led proceedings: "I started designing musical theatre shows nine years ago, and my first design was Thriller Live in London's West End. Since then, I have gone onto design many more tours and West End shows. It's the main area that I focus on, however I have also been involved in the Olympics, Commonwealth Games, corporate shows, orchestra performances, music festivals and concerts, so I have a good knowledge of all kinds of live events.
"I think the skill for theatre is probably is being able to bring everything together and work closely with the production's creative team to fulfill the director's, musical supervisor's and producer's wishes."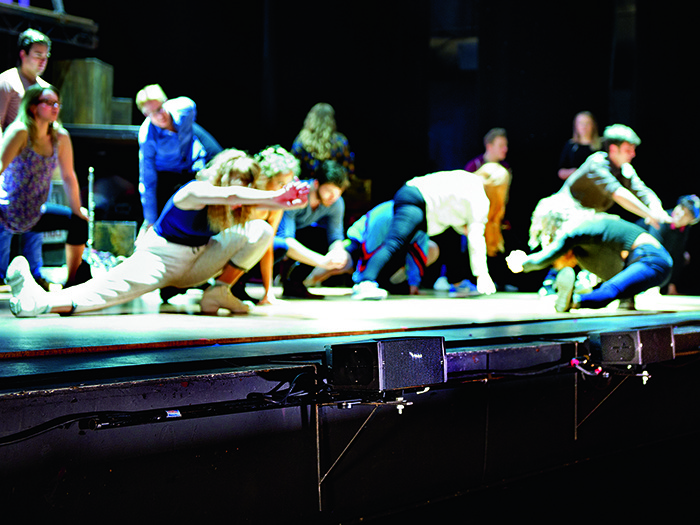 When starting a sound design and choosing a PA system, Whybrow always looks at the tour's venues and scheduling before thinking about the size of system. "Footloose, for example, is doing a huge range of venues and by specifying a Nexo Geo system, it has enabled me to scale the rig up and down dependent on the size of the room," he added.
The main objective for this production was to have a system that the touring crew could load in and fly quickly, ready for the show that evening. Continued Whybrow: "The great thing about using Nexo is how compact and lightweight it is; it's very quick, light, and importantly it delivers the coverage and SPL that this show needs."
Rental company Orbital Sound provided 12 M620 80° loudspeakers per side covering the stalls and circle areas, six Geo M620's per side on the advance truss which covers the gallery, four LS18 sub bass for the stalls, four LS18 sub bass for the upstairs seated area and six ID24t for a compact front fill.
To complete the main package, Whybrow chose a DiGiCo SD8 console for FOH duties and a DPA / Shure microphone package. He elaborated: "These are choices that have carried through my designs over the years. I have refined and tested numerous other options but have found the combination I love." The musical was starring DPA d:fine 4066 omnidirectional headset microphones and IEMs were Shure PSM1000's. Monitoring is handled directly into Aviom mixers by the on-stage musicians and the rest is mixed from FOH.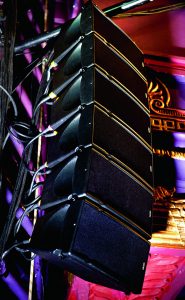 Orbital's Chris Headlam added: "UK touring musical theatre operates broadly on two scales. Some shows reside in a given theatre for a month or so and economically enjoy a load in and fit up period of a week or more. Others jump from theatre to theatre weekly and as a consequence, the load in, fit up and first performance will all take place on a single day.
"In the latter scenario, the industry requires a redefining of the words light, speedy and economic because the Nexo Geo M6 is a benchmark leader in all of those areas. Specifiers who adhere to the more mature view that the brand name is less important than the end result are migrating toward solutions that facilitate simple touring whilst maintaining first-class sound. Nexo holds two of the long-standing key patents associated with line array theory, which gives them a significant technological edge when developing next generation compact systems. The whole subject of who holds which patent – and how that effects their manufacturing opposition – is often overlooked but presents a fascinating subject of its own.
"Musical theatre sound is very complex. The advances over the last decade in digital consoles, computer playback and networking have allowed the designers to take their creative designs to another level but crafting deeply layered and complex sound creations is not possible with older, analogue solutions. The technology has completely re-written the support rules required. Orbital Sound has a network of experts and the skill gap between what the equipment requires for day to day running and what is available onsite during a tour is ever widening. It's Orbital's responsibility to fill that gap remotely. It's can be a huge challenge – but one we relish."
Touring and operating the Nexo system – which is transported in bespoke Nexo flight cases – is Piers Archer, Footloose's head of sound. He commented: "In theatres you have to consider weight limitations and sight lines, as well as maintaining the correct coverage and distance throw in the premium seats. Because the Nexo Geo M6 system is so compact and lightweight, it means we can put a full system into every venue we tour in, without compromise. The producers paid the tour a visit this week, and they were very happy. They actually said, 'how did you make it sound like this in a room this big?'"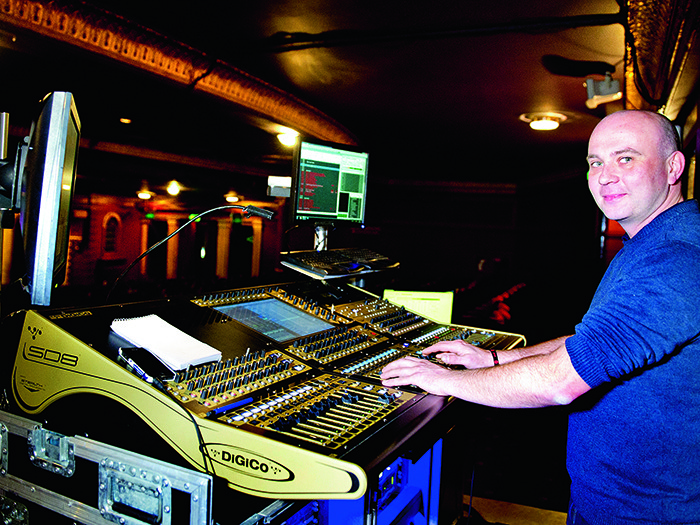 Archer sets up the system with lasers for scale, using Nexo's NS1 software to map the room. He continued: "Footloose historically has always been a loud musical, putting out 96db with crowd noise. Chris Whybrow's system design gives you the energy in all of the songs, but also cleverly draws you into the dynamic during the tense acting scenes, and the system caters for both experiences perfectly. With this set up, I use the front fill for imaging and to pull focus alongside the even coverage across the front."
Prior to this tour, Archer hadn't used a Nexo PA for 20 years, but described the experience as eye opening. "I only used one hang either side at our show in Edinburgh and it did the job really well. It was rigged in 45 minutes!"
With a heavyweight name such as Footloose selling out theatres in various cities, audiences across the country continue to expect the best out of a classic. What they won't realise is there's a lightweight star enhancing the experience – no matter which seat they're kicking their Sunday shoes off from.
TPi
Photos: Shirlaine Forrest
http://footloose-musical.com
http://nexo-sa.com
www.orbitalsound.com