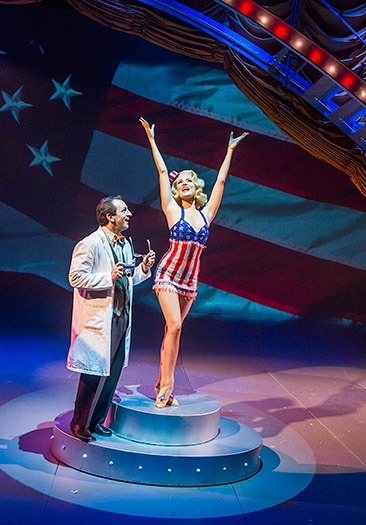 From its conception, Miss Atomic Bomb was made to push boundaries. The world premier of the new musical by Adam Long, Gabriel Vick and Alex Jackson Long brought together a renowned cast and crew to create an explosively funny dystopian fantasy with a unique staging concept – there is no set to speak of.
The musical is produced by Tanya Link and is set in 1950's Las Vegas, during an era where atomic bomb testing was not only a military endeavour, it was also a celebrated tourist industry with every businessman worth his salt trying to capitalise on the interest. Comedian Catherine Tate takes a leading role alongside West End star Simon Lipkin following their critical and audience success in Sondheim's Assassins at the Menier Chocolate Factory.
The story follows four friends – an aspiring fashion designer (Tate), a farm girl who can't figure out why her sheep are all dying, a military deserter, and a hotelier (Lipkin) looking to save his business from the mob – as they navigate the bizarre nuclear tourism industry, and the Miss Atomic Bomb beauty pageant.
To capture this unique setting – spanning from nuclear testing sites to Las Vegas hotels, to mysteriously failing farms – the producers worked with Really Creative Media and Creative Technology to create a virtual, rather than physical set, which complement the unconventional plot. Using Panasonic PT-DZ21K projectors with ET-D75LE90 Ultra Short Throw Lenses, they were able to create hyper-real backdrops and video content projected onto a spherical backdrop, reminiscent of being inside a bomb. This technology choice allowed Really Creative Media to project really steeply in a short depth space and completely hide the projectors in the roof of the theatre without the interruption of front projection.
High School Musical 2 lighting designer Tim Deiling worked with the team, coordinating stage lighting, and that on the backdrop, to the projected designs. Really Creative Media was responsible for the video content creation, video programming and provided the media server and console during the duration of the performance run.
"The content brief for Miss Atomic Bomb was that it needed to be 'hyper-real'. The creative team wanted the audience to feel totally immersed in the atomic era but with a contemporary feel, and avoiding the cliched 'retro' look," explained Jack James, Video Designer for Really Creative Media. "The super-wide scale of the projections and infinity curve floor helped us achieve that."
The show ran in the classic West End preview, St. James' Theatre from the 7 March – 9 April 2016, and also featured dazzling choreography from Olivier Award winner Bill Deamer.