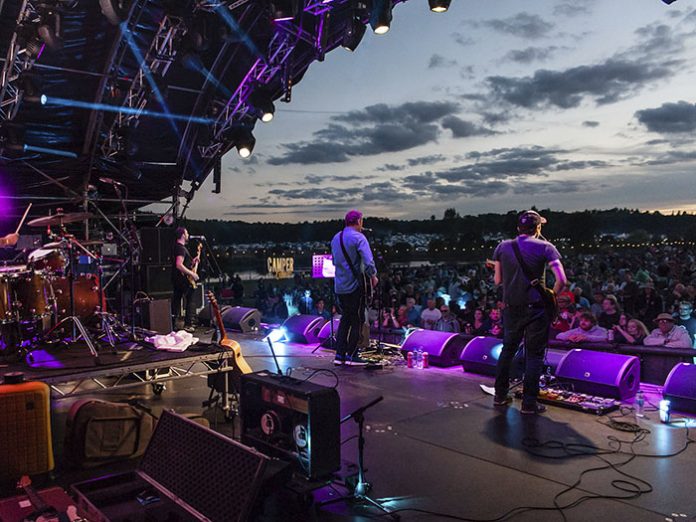 Lee Gruszeckyj and the Central Presentations Limited (CPL) crew joined the first Camper Calling event, supplying LED screens and live video for a new three-day family orientated festival staged by Jazz Events – part of the Jazz Publishing Group – in the environs of Ragley Hall, Warwickshire. The line-up included ABC, Magic Numbers, the UK Foo Fighters, Toploader, Dodgy and many more.
CPL's immediate client was sound specialist Urban Audio Productions who were contracted to provide all technical production elements. Having made substantial investments in LED screen over the summer, Lee specified 50 panels of CPL's new Roe 3.4mm product which was flown off a mid-stage truss configured as a main screen surface flanked by two columns.
Visuals were run via CPL's new d3 4 x 4 server, with all the content – including re-edited and unique 'live' cuts of materials submitted in advance by artists – created beforehand by CPL and uploaded to the server on the day.
"Having the d3 onsite was fantastic," commented Lee, "The kit ran flawlessly and even if artists could only provide a logo as visual material, we were able to apply some great treatments, effects and mash-ups that brought something fresh and invigorating for all the bands and the audiences.
CPL also provided three HD handi-cams and two fixed-position GoPros were focussed on the drums and shooting across the front of the stage from one side which provided some creative IMAG footage. All were fed into a Panasonic vision mixer and then in to the d3 for outputting to screen as a live feed.
To boost the interactive activity across the festival community a live Instagram feed appeared on the screen during changeovers. They had a 4G mobile data connection on site and Lee had all the login details for the account so he could monitor – and edit if necessary – incoming images, then upload them to a pre-designed live page format which was displayed onscreen and regularly updated as more materials came through. Video was also used to ensure some Camper Calling branding of some sort was onstage for most of the time.
Three CPL crew worked on the get in and rig, Lee operated the system over the weekend and then another two crew assisted with the load out.
Said Lee, "There was a fantastic vibe on site all weekend and we are particularly delighted to have been booked for the next three years!"