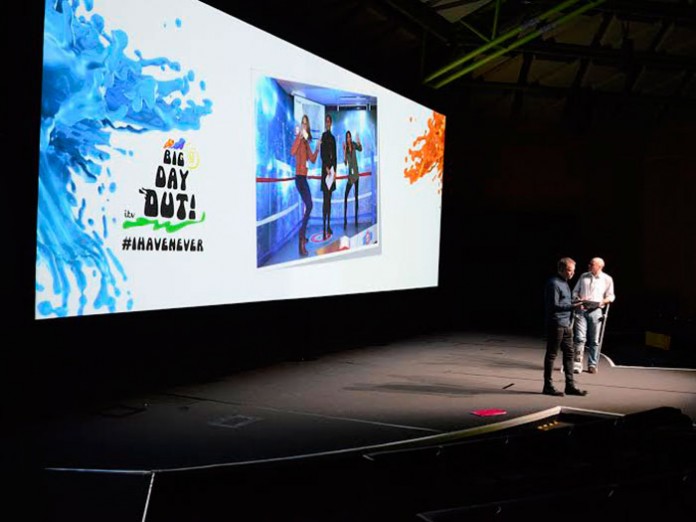 West Midlands UK based production and live video specialist Central Presentations delivered a stunning widescreen projection system plus lighting and sound production for 'Big Day Out', an event for ITV Commercial sales teams staged at Heythrop Park in Oxfordshire.
A series of motivational talks and presentations, interspersed with choreographed entertainment and magicians, took place in the venue's Lecture Theatre for which CPL supplied a 12 metre wide by four metre high projection screen, fed by Panasonic 12K laser projectors.
This was installed by a CPL crew project managed for CPL by Lee Gruszeckyj and Liam Griffiths. The three projectors were flown side-by-side in the roof and controlled via a Barco E2 management system.
The client's brief was that they wanted a large digital backdrop to help provide an 'immersive' experience for their staff. Using the E2, CPL was able to layer the content appearing on the screen with a series of picture-in-picture windows utilised to add in pre-recorded VT relays and live feeds from one of their Sony HXC-100 cameras, which primarily concentrated on the different speakers and others appearing onstage.
The lecture theatre was lit with a generic 'white lighting' package comprising profiles, PAR and fresnel fixtures giving balanced lighting coverage across the stage area for comfortable audience viewing and the camera.For the event's evening session, everyone moved to the ballroom for dinner. CPL built a four foot high stage along one side of the room which hosted performances from X-Factor runners-up Reggie 'n' Bollie and Beat who were lit with Clay Paky Mythos moving lights and ARRI L5C LED fresnels.
The whole Ballroom was decorated in swagged white voile draping which is perfect for being illuminated, so LED PARs and 30 x Smart-Batt wireless LED up-lighters were positioned around the space to graze up the walls and colour the materials. Philips SL eSTRIP 10 LED battens added to the fiery red and orange atmospheric lighting to match the "Dare Devil" theme of the day.
The lighting also complimented the colouring of the table centres and other scenic elements, all combining to create an exciting walk-in vibe getting guests in the mood for a great evening. All lighting was controlled via one of CPL's Avolites Quartz console. A d&b sound system comprised of ground-stacked arrays of Y8 speakers and V-SUBS with a Yamaha CL5 desk for control, and both Sennheiser IEMs and d&b E12 wedge monitors were supplied for the artists, together with a selection of Shure hand-held radio mics. Everything had to be in and out in a day, so a smooth and well-coordinated operation by Liam, Lee and the CPL team was essential. Heythrop Park is a venue in which they regularly work, so this familiarity helped make it a slick and efficient process.
"It was great working with the team from ITV and fun putting together their Big Day Out," said Gruszeckyj.