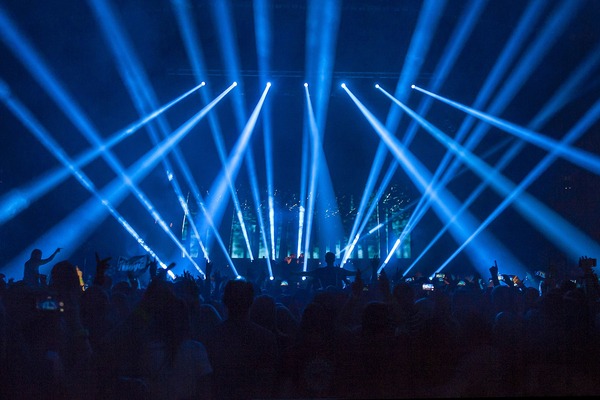 Lighting and visuals rental specialist Colour Sound Experiment delivered lighting and video equipment for Neil Marsh's stunning show design for popular alt. trance aficionados Above & Beyond at London's O2 Arena.
A single 15-metre-wide by 6-metre-high wide screen made-up from Colour Sound's BT-7 LED product formed the backdrop, and this ran in conjunction with 2-side screens of the same LED, each measuring 8 metres by 3 metres high, also in landscape format. At times, all 3 had 1 large single image playing out across all 3 surfaces and other times they showed individual content.
The trussing structure featured 3 cross stage trusses, 2 running down each side of stage, with 3 separate 'blinder' trusses, which were slightly angled, each rigged with 24 2-lites and flown high up in the O2.
The 2-lite Mole count was bumped up to 96 with a string of another 24 fixtures running upstage across the deck. For key lighting, he added 2 small trusses, 1 flown slightly stage right and upstage of the band, rigged with 3 Robe Spiider LED wash beams which provided some nice back-lighting effects
In Seattle, multiple Vari*Lite 6Ks were on the rig, and these were replaced at the O2 by 47 of Colour Sound's LightSky AquaBeams which have a 440W short-arc lightsource and are really punchy. "They are solid, really intense and I was very happy with them," commented Neil.
A total of 20 Robe BMFL Spots were deployed on the back and side trusses, giving the epic big light looks of the rig, and used for numerous sumptuous hi-impact wide gobo looks and classy fat beam scenes, 28 additional Robe Spiiders, which were also rigged on the trusses and the floor (in addition to the 6 front and back key lights).
At the back Marsh created a wall of 15 Portman P1s which produced some fantastic pixel-pattern looks. Some of these were rigged on Manfrotto stands on the floor below the screen with others on drop bars off their own truss tucked in above the screen.
Thirty strobes and 24 Showtec Sunstrips, the latter cladding the front of the DJ booth, where Neil wanted something different and a bit classier than the 'standard' strip of video screen. Colour Sound also supplied 60Kgs of confetti and CO2 canons.
The video was co-ordinated and run completely independently by Dave Kyle, also stationed at FOH alongside Neil, utilising a Barco S3 processer, which dealt with all in the inputs and outputting these to screen. A trio of robo-cams from Colour Sound were assigned 1 each to the 3 performers.
Colour Sound's crew was chiefed by Sam Campbell, joined by Karl Lawton, Fergus Nobile, Jason Tuffin, Tom White, Mel Cornish, Stu Barr, Rosie Haigh and Sarah Payne with Jani Fodor tech'ing the video.
"The service from Colour Sound was fantastic as always" stated Marsh. "A one-off arena show is always logistically challenging, but they delivered at every stage of the process and sent a really excellent crew to site who were fast, efficient and a joy to work with".
ER Productions supplied 6 20Watt RGB lasers, and Adlib delivered the audio with a K1 system.