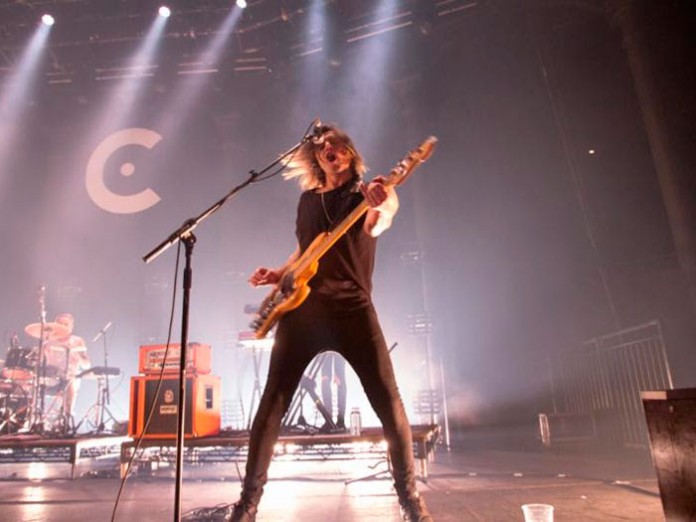 Bristolian band Coasts rocked London's Roundhouse in February with a captivating, atmospheric lighting show created by Tom Campbell using an Avolites Sapphire Touch and networked Tiger Touch II.
"This was a stripped back version of the bigger shows we've got planned for later in the year, designed to suit the iconic Roundhouse and create the right feel," said Campbell. "I'm using a lot of tungsten in the show, and a video wall of Ereimul Elidy 'S' matrix fixtures and Clay Paky Stormy CCs, which curves around the band in a 'C' shape."
Campbell's consoles are loaded with Titan v9 for the tour, and he's utilising an array of the new and powerful features available in the software. "The show is packed full of Key Frame Shapes-powered looks, which allow me to get a wide variety of textures and feels," he continued. "Key Frame Shapes is an extremely powerful feature. Creatively, it gives me practically unlimited options to play with and is incredibly precise."
The Avolites consoles were supplied by Siyan. "I like to be hands on for these shows, especially as Coasts has sporadic, ad-libbed sections, and the Avolites interface allows me to have full control," added Campbell. "The amount of handles at my disposal lends itself to that perfectly – each show is slightly different as I can respond to the performance easily and quickly.
Multi User Networking allows users to connect multiple consoles together to work collaboratively or independently on the same show. A show can have multiple users, each with their own User Settings, Handle Worlds and Selected Key Profiles.
Coasts embark on a European tour in March and then head to the USA.