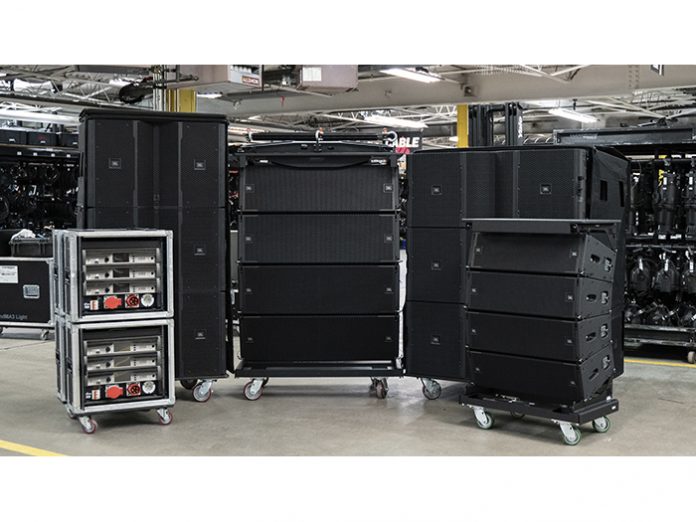 HARMAN announced that Clearwing Productions upgraded its audio production inventory with new JBL by HARMAN VTX A12 and A8 line array systems including JBL S28 subwoofers and Crown VRack amplifiers.
"The VTX A12 sounds good and it's got finesse, but the big thing for us is the versatility of the box," said Jamie Earle, Director of Engineering, Clearwing Productions. "The A12 delivers high SPL, but it's also fairly small and lightweight, so we'll be able to take it to reasonably large festivals or stadium tours. One of the biggest selling points of this system is the rigging system—it's really quick and one of the best I've seen. On a lot of tours, we go between big venues and tiny theatres, so it will be really useful to have a box that is so flexible. As for the VTX A8, we will use it for theatres and corporate events, or on side stages, front fills and out fills for bigger events. Any box that size just flies out of our door because it's very versatile."
JBL worked closely with Clearwing to integrate the JBL A12 system into numerous productions over the last two years, including the 2017 and 2018 Summerfest festival in Milwaukee, Wisconsin, where the system produced excellent results for a wide range of artists on three stages. Based on the excellent performance of JBL A12 and the close relationship between the Clearwing and JBL teams, Clearwing decided to purchase JBL A12 and the new JBL VTX A8 speakers for use in smaller venues and events, and for supplementing the JBL A12 system when required.
"We've enjoyed a long lasting relationship with Clearwing, and we've enjoyed working closely with their incredible team to integrate VTX A12 into Summerfest 2019 and other productions during the year," said Andy Flint, Vice President of Live Entertainment, HARMAN. "We're pleased to have the opportunity to create an inventory of JBL live sound solutions, beyond the significant inventory of Martin lighting, that they can now use on everything from global tours to large festivals to corporate events and more."
"Two years ago, JBL flew us down to LA when the A12 was in the pipeline, which was really cool because we had some suggestions about the speakers that they actually took moving forward," said Earle. "We were quite impressed that they were willing to listen to our perspective on what the product should be, and actually work with us to make things happen. They also let us demo the A12 system for a couple years with their applications engineers looking after it, which was awesome. A big part of our decision was the relationship they forged with us because they were so involved over the years."