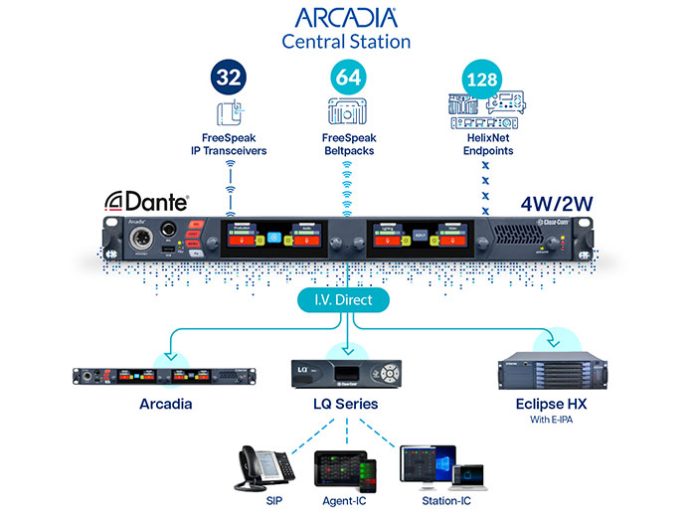 Clear-Com has revealed new features for Arcadia Central Station with the addition of I.V. Direct, an IP interfacing feature that connects Arcadia and the LQ Series of IP Interfaces, Eclipse HX Digital Matrix System (via E-IPA card), and other Arcadia systems over LAN, WAN, or Internet.
The update will also provide an increase in capacity for FreeSpeak beltpacks, transceivers, and HelixNet endpoints, making Arcadia the most powerful 1RU intercom device on the market with support for 285 input/output connections on a single system.
The I.V. Direct connections will allow intercom audio, logic controls, and call signals to be passed between separately managed Clear-Com systems and assigned to channels, groups, and keys in the individual systems.
Interfacing with LQ will allow Arcadia users to expand their analog connections using 2-wire, 4-wire and GPIO ports and support Clear-Com's Agent-IC and Station-IC virtual clients, two-way radios, and SIP telephony, without the need for multiple audio and control cables.
In addition to local Dante-based connection capabilities, I.V. Direct connections will allow Arcadia's network interfacing to extend, Arcadia will support up to 16 I.V. Direct connections.
This latest update delivers an increase in capacity, with support for up to 32 IP transceivers, 64 wireless FreeSpeak beltpacks, and 128 HelixNet endpoints. By offering users the ability to connect a staggering 192 digital beltpacks in a 1RU package, Arcadia is breaking the boundaries of what users can expect from modern-day intercom systems.
Simon Browne, Vice President of Product Management, commented, "More than ever our users require distributed workflows and this integration with LQ and Eclipse opens a world of possibilities, allowing Arcadia users to scale their existing systems appropriately and collaborate on large, multifaceted productions – even from opposites sides of the world." Simon continued, "This update showcases the potential of this platform and positions Arcadia as the most powerful and flexible intercom system available in such a compact form factor."
These new features will be available for Arcadia starting in Q4 2023.