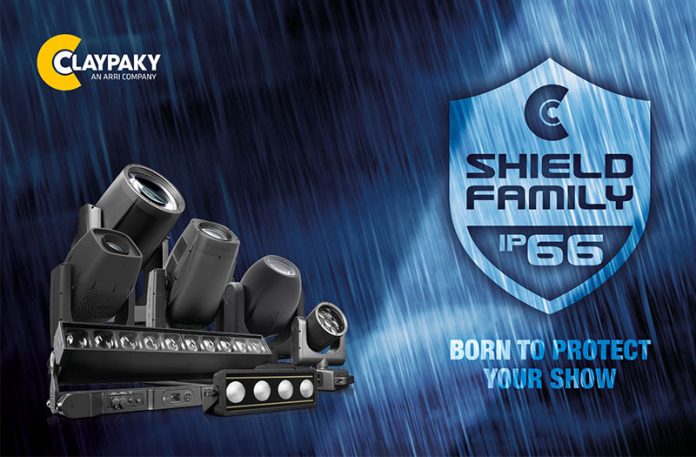 Claypaky will debut a select few products at this year's PLASA event, including a world premiere for two products and a PLASA debut for eight products.
Beginning with a world premiere for The Midi-B FX, created from the idea of adding more lighting effects to a moving head washlight, attempting to get a fixture that can do both a RGBW wash lighting and be used as part of a set design.
The secondary world premiere is the ADB's Actoris Profile FC a 6-colour ellipsoidal with advanced features, incorporating state-of-the-art software that gives it a performance, especially in terms of colour control.
Debuting for the first time at PLASA is the SKYLOS, a versatile and weather-resistant fixture, with incredible light output and construction features The Skylos will be appreciated in the touring sector, it fits a custom 300W white light laser source, which provides a parallel, uniform beam. Alongside this is also the AROLLA AQUA, Claypaky's weather-resistant light. With a IP66 rating and technical and construction features that were once unimaginable for this kind of light. The Arolla Aqua fits a white 900 W (7000 K) LED light source, capable of a 40,000-lumen output.
Also debuting is the SHARPY-X-SPOT, the simplified Sharpy-X-Frame model, with all the same lighting, optical and construction features that have made this fixture so successful. First of all, it fits a 550-Watt arc lamp, which makes this fixture bright and produces deep, vivid, uniform colours, including a deep red.
ClayPaky's new remote followspot system BUDDYLIGHT can follow performers and speakers automatically and will also be at PLASA 2023, with the MINI-B-AQUA, an IP66 protection rated mini-washlight. The sibling product, the MINI-B SPOT, also debuting, is based on a 70W white LED engine, capable of delivering 3500 lumen with a power consumption of 150W.
The VOLERO WAVE, also debuting for the first time at PLASA, is made up of a system of eight moving heads, each one independently capable of a 220° tilt, producing three-dimensional volumetric projections. Finishing their range of debuts is the TAMBORA LINEAR 60 a 60mm static LED pixel bar, offering all of the features of the Tambora Linear LED bar range and is suitable for applications in narrow environments.