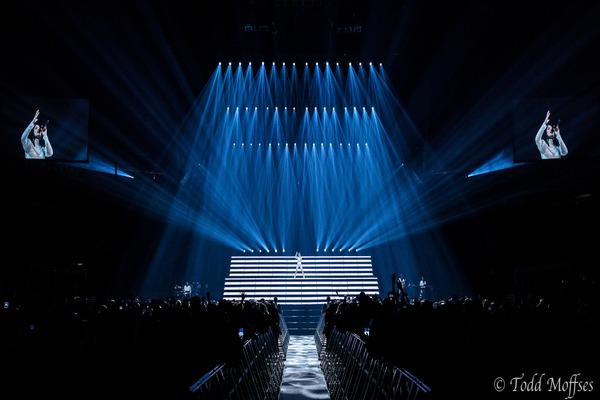 Halsey has embarked on the North American leg of her Hopeless Fountain Kingdom World Tour and Claypaky Scenius Profile lighting fixtures, provided by 4WallPA, are lighting her way.
ACT Lighting, Inc. is the exclusive distributor of Claypaky products in North America. Production Designers Sooner Routhier and Robert Long of S Rae Productions collaborated with the artist, who conceptualised and sketched out the original idea, to design the show, which incorporates lots of LED video, with Craig Rutherford as the Lighting Director.
"There are very large stairs with LED video on the risers, and there's a large LED wall upstage comprised of 2 screens split at the center," said Routhier. "Above the stage are six straight trusses with lighting, which mimic the stairs. Everything is very linear."
A total of 65 Claypaky Scenius Profile fixtures were mounted on the truss, 4 dedicated spotlights for Halsey and the dancers mark the first large-scale usage of Scenius by Routhier and Long.
"Scenius has a lot of features that work really well for pop and electronic music," Routhier explained. "We end up using them to hit notes, beats and noises. We exercise them as much as possible to create a really dynamic light show."
"The lensing is amazing with a nice crisp beam if you go super tight and a great gobo focus. Scenius is definitely part of our toolbox whenever we have the opportunity to use them. They're exceptional lights that are performing very well on the tour."
Two full-size grandMA2 consoles were specified for Associate Lighting Designer and Programmer Andre Petrus, alongside 9 grandMA2 NPUs. Petrus made extensive use of MA 3D during the previs process. MDG's theONE atmospheric generator is also on hand. ACT Lighting also exclusively distributes MA Lighting and MDG products in North America.