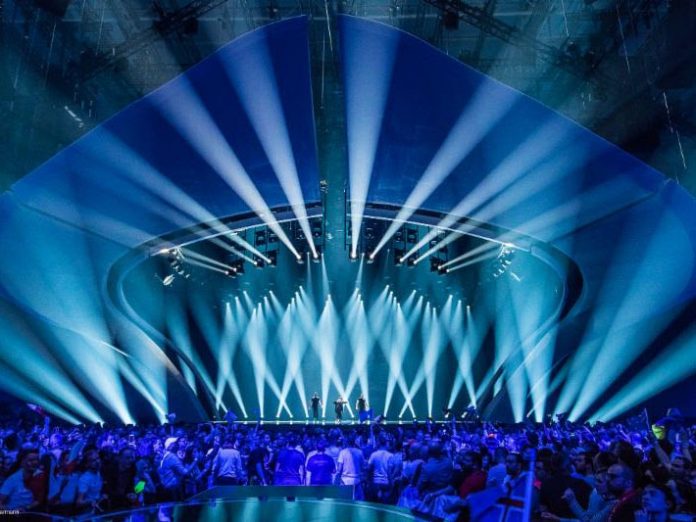 Internationally renowned LD and director of photography Jerry Appelt specified the new Claypaky Scenius Unico as the main stage workhorse fixture for his richly composed lighting design for this year's Eurovision Song Contest, hosted at the International Exhibition Centre, Kyiv, Ukraine.
This year, 42 countries participated in the global TV phenomenon, each supported by a striking stage and light show embracing video, special effects and a procession of scenic props and costumes, all of which combined to make the lighting of this world famous event an ever more challenging proposition.
Taking up that challenge for the third time, Appelt's lighting solution was born from a creative collaboration with scenic designer Florian Wieder. This was centred around a fresh take on the Proscenium arch, which curved majestically from upstage, and was further complemented by a video floor and an arena-wide LED video backdrop.
Appelt harmonised this with an entirely kinetic rig, based around a huge, three-dimensional structure affectionately known as the 'Beehive'. Saturated with lighting and media technology, the Beehive hung above centre stage, behind Wieder's arching scenic projection surface and in front of the video backdrop to offer a versatile central focus to the stage lighting. This in turn was encircled by layers of curved, automated truss elements, all carrying Scenius Unico, equipped with OSRAM Lok-it! HTI 1400/PS lamps
"My primary goal was to design a lighting architecture that could be as multifunctional as a Swiss army knife!" explained Appelt. "I needed a rig that was supremely flexible from all perspectives and that would also look good on TV. It had to offer an inexhaustible selection of looks for the cameras. Every truss is automated with a view to creating countless singular spaces by manipulating light, shadow and darkness, height and depth, angle and colour, hard and soft beams."
This need for flexibility also influenced Appelt's choice of the Scenius Unico: "I needed a workhorse that could perform the role of two, maybe even three different types of fixture, without compromising on colour, output, mechanical precision or effects," stressed Appelt. "The Scenius Unico was the only solution because it is so versatile; it can be a spot, a wash or a beam light, it is also high output and relatively compact in size and weight."
The Scenius Unico, supplied to Eurovision by global lighting, video and rigging expert PRG, provided Appelt with a superior quality of light and 6500 K output colour temperature to work alongside the production's considerable video output. Appelt could shape the light's beam to within a fraction of centimetre through its advanced framing system, currently one of the most advanced on the market.
"I primarily used the Scenius Unico as a beam light. I needed a fixture that could deliver a consistent colour range, a bright output and enabled me to convey a wide variety of different looks; the Scenius Unico does this. It also offers a rich colour palette, it's super bright and it has an old fashioned, punchy beam replete with hot spot, which I love and is perfect for this kind of show."
Ola Melzig, head of production for Eurovision, agreed: "One of Jerry's biggest challenges is to balance the lighting and the high-power video for cameras. This demands a high impact fixture with great features, fantastic output and a lovely quality of light that stands apart from the rest of the lighting and video in the room. To that end, Jerry was insistent that he has the Scenius Unico. We love the colour, especially for TV and I, as a Production Manager; love the relatively low weight and the pleasing ratio of high light output to low power consumption. It's a very powerful design tool, but for me it's also very cost-effective."