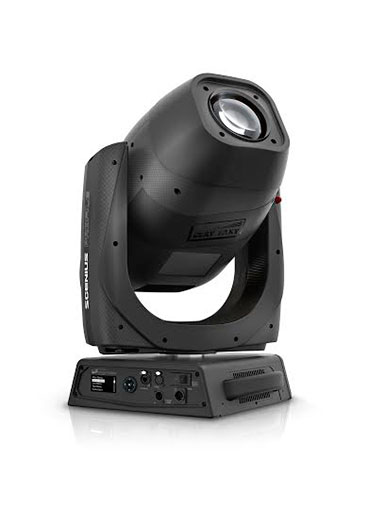 Jason Derulo wowed viewers at the 42nd People's Choice Awards with a high-energy performance that featured Clay Paky Scenius moving head spotlights as the main effects lights for the dynamic singer. A.C.T Lighting is the exclusive distributor of Clay Paky fixtures in North America.
Honouring the best in popular culture for 2015, the "People's Choice Awards" were held 6 January, 2016 at the Microsoft Theatre in Los Angeles and broadcast live on CBS. Emmy-winner Allen Branton was the show's lighting designer; Felix Peralta, Kevin Lawson and Darren Langer were the lighting directors. A.C.T Lighting gave the team the opportunity to demo Scenius fixtures prior to the show, and they felt the new lights would work well with Derulo's medley of "Get Ugly" and "Want to Want Me" performed with a complement of backup dancers. The deployment marked one of the first uses of Scenius in the US.
"Scenius is a very, very bright hard-edged light," said Felix Peralta. "We liked the gobo selections and its great animation wheel. And we were very impressed with how fast the zoom parameters go from fully wide open to very tight."
Scenius is the new moving head spotlight at the top of the Clay Paky range. Its advanced optical unit and the new 1,400W OSRAM discharge lamp provide a much higher light output than with previous generation 1,500W lamps.
The fixture produces a 6,500K output colour temperature that does not vary over time; Scenius also can count on a very high CRI, which is extremely unusual for a metal halide light source. Its colours cover a broad spectrum with even pastel shades. Scenius offers top-rated special effects with two rotating gobo wheels, each with six interchangeable gobos, a rotating prism and an interchangeable graphics wheel for spectacular new effects. The fixture can also be used in wash mode by inserting a new design of frost filter.
"We positioned six Scenius fixtures upstage on carts where they gave a big light that blew through the band upstage to downstage," Peralta explained. "During Jason's medley we featured Scenius's unique gobos and animation wheel. We also played with the zoom function throughout his performance. That gave a look that resembled big breaths of light, almost fluid pops of light. Everyone was thrilled with the results."
While Scenius is new to the US, Peralta believes the fixture has a very promising future. "It's a great musical light – tours and award shows will love it," he said. "It's got a lot of punch and a lot of features. Scenius is more versatile than many of the hard-edged lights on the market today." Francesco Romagnoli, Clay Paky Area Manager for North and Latin America, added: "We're very excited about our new fixture and pleased to see that this all start team is one of the first to use it."