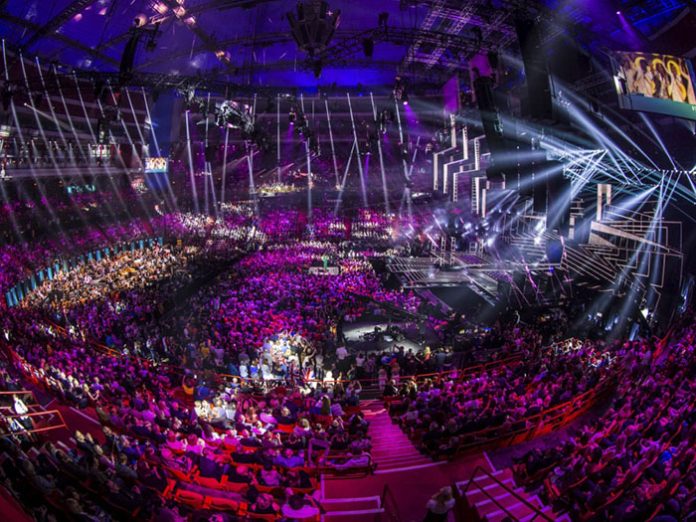 Award-winning lighting designer Fredrik Jönsson applied a vast number of Clay Paky Mythos, Sharpy, Sharpy Wash 330 and brand new Scenius to create the broadcast-ready, glittering extravaganza that was the Eurovision Song Contest 2016.
Now in its 61st year with theme Come Together, Eurovision was sponsored by OSRAM and hosted by last year's victor Sweden at Stockholm's Globe Arena and watched by millions around the world.
Jönsson, who was the lighting designer for Eurovision 2013 and created the visual look of Swedish winner Måns Zelmerlöf's performance at last year's contest, specified 120 Mythos, 308 Sharpys, 166 Sharpy Wash 330's and 58 Scenius to create each delegation's uniquely spectacular visual story.
"Clay Paky's new Scenius was the main profile workhorse of the rig," explained Jönsson. "We were really impressed with its sharp optics and brand new OSRAM lamp which offers fantastic colour rendering – the white is actually white and not tinged blue or green. For a designer like me who works a lot on large televised events, this high CRI light source is a real game-changer."
Ola Melzig, Technical Director of Eurovision 2016, agreed: "The new Scenius is amazing – it is most probably the best light for television ever made. The white is so white – the CRI levels are absolutely Scenius is the latest addition to Clay Paky's industry-leading range of moving heads. Their optics, combined with its new 1400W OSRAM discharge lamp, deliver powerful output and CRI."
Official technical supplier for the event [LITE]COM supplied the extensive package of Clay Paky fixtures with partners AED Distribution and Woodlite.
Working with Eurovision's technical and creative teams, Jönsson arranged the Scenius above the stage on straight truss. From here the fixtures worked with the Mythos, Sharpy and Sharpy Wash 330S to complement the 'infinity'-style perspective of Frida Arvidsson and Viktor Brattström's bold set design.
"I wanted quite an old school rock and roll feel to the lighting, so very sharp and angular with a lot of straight lines," continued Jönsson. "Above the stage there is a row of 56 Sharpys which, along with the Mythos, provide most of the fast paced beam work and effects."
"There is a reason 50% of the rig is Clay Paky," added Melzig. "They have proven to be very reliable fixtures, with colours that are ideal for television. You also get a lot of bang for your buck, especially with the Sharpy series."
The Clay Paky fixtures also held its own alongside the show's significant video element. This included an incredibly high-resolution floor of 71 million pixels. "The Mythos is a great fixture with fantastic punch," continued Melzig. "Plus, if you look at its output versus the energy it consumes, it's pretty amazing."
Clay Paky CEO Pio Nahum added: "With global TV audiences for this year's grand final reportedly reaching 200 million, Eurovision is truly one of the greatest shows on Earth. Nothing can go wrong when an event is being broadcast live on such a scale. The lighting equipment must not only be capable of providing awe-inspiring visual effects – it must also be entirely reliable. That's why we are beyond thrilled that, for the sixth year running, Eurovision's electrifying stage has been largely lit up by our advanced fixtures. This year marks Clay Paky's 40th anniversary and so it is a fantastic way to celebrate."