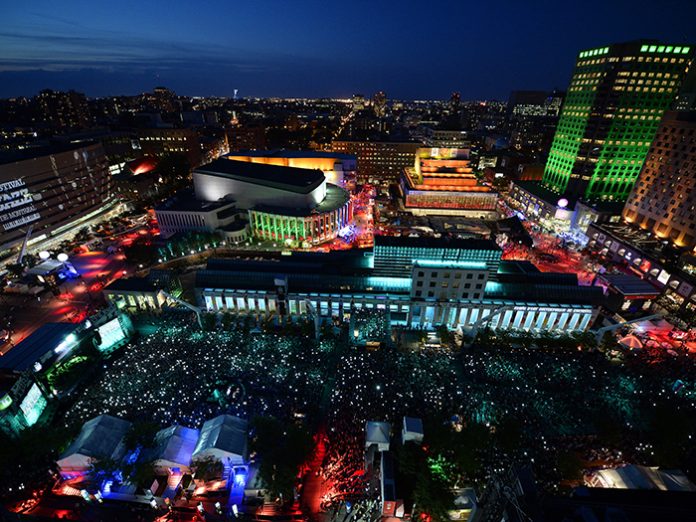 The Montréal International Jazz Festival, produced by L'Equipe Spectra, marked its 37th year welcoming millions of visitors to more than 650 concerts at outdoor stages and indoor concert halls across the city. Clay Paky A.leda B-EYE K20 fixtures and MA Lighting's grandMA2 and dot2 consoles were featured on the Main Stage and Ste-Catherine Stage where crowds were entertained by an eclectic mix of artists. A.C.T Lighting, the exclusive distributor of Clay Paky and MA Lighting products in North America, provided the kit.
20 Clay Paky B-EYE K20's provided back lighting and effects lighting on the Main Stage. "The multiple beam effect of the K20 made a unique design on the stage and was a really good addition to the stage this year," said Christian Blais, Head of Electric. "The Shape mode worked especially well."
A full-size grandMA2, MA VPU light and two NPUs were deployed on the Main Stage for control of a large complement of lighting fixtures. MA's dot2 XLF was the console of choice for the Ste-Catherine Stage.
"We used the VPU to map all of our LED fixtures on the Main Stage, and everybody thought we had a video operator on the show," noted Blais. "It really brought the lighting to a new level. We were able to control the VPU easily with the grandMA; other video servers on the market are much harder to operate by comparison."
The grandMA2 is the console of choice for many lighting designers today, he added. "We have many guest lighting designers and were happy to offer them the grandMA. Everybody was able to operate the show quickly and easily MA's compact dot2 XLF was warmly embraced, too. We were looking for a console for the Ste-Catherine Stage that was similar to the grandMA2 and just as easy to use but more cost effective," said Blais. "We found that in the dot2, which worked great. More than half of the guest lighting designers had never touched a dot2 before. But once they were introduced to dot2 they were able to easily produce a show."