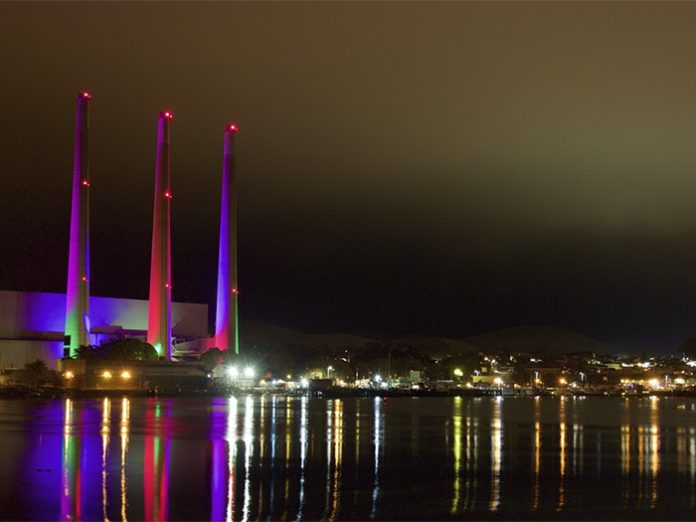 Clay Paky's A.leda B-EYE K10 fixture featured heavily as three giant smokestacks at a decommissioned power plant in Morro Bay, California came alive with vivid colored lights and patterns in a pair of 'guerrilla-style' art projects.
Morro Bay is a town of 10,000 people on the California coastline near San Luis Obispo. It boasts a rock one third the size of The Rock of Gibraltar and a two-mile waterfront, which includes a shuttered power plant that's been a challenge to tear down or repurpose.
Chris Stavros is Chief Maker at makeSEA, a website that provides collaboration tools for makers. He got the idea to light the smokestacks with B-EYEs for an impromptu still photographic shoot. His project created so much buzz that he was invited to design a Fourth of July art installation with the B-EYEs a few weeks later.
According to Stavros, the initial photo shoot created an "enormous social buzz – more than any other city project."
Stavros used six B-EYEs to bathe the three smokestacks with light and patterns. The stacks are 450ft tall and approximately 75ft apart. "We weren't sure how effective the B-EYEs would be on such a large canvas, but we lit each stack with two lights placed about 45 and 60ft away from the base and pointed low and high to wash the entire tower," he explained. "The stacks were the perfect canvas for the B-EYEs."
Next, Stavros spent an afternoon setting up an impromptu 'old-school beach party' with a DJ and dancing on the sand 35ft from the water in Morro Bay. "People walking by on the waterfront were blown away – they had to pinch themselves to make sure it was real," he said.
Three weeks later the mayor of Morro Bay asked Stavros to light the smokestacks for the city's weekend Fourth of July celebration. As Director of the Morro Bay Stacks Art Light Installation Project, Stavros rented 14 B-EYE K10's from BGA for the event. Four lights were trained on each stack and two on the seven-story building behind the smokestacks.
"We did more visually this time," said Stavros. "We used the moving heads and patterns. We washed the stacks in red, white and blue, of course, but we were all over the map with different looks." Stavros controlled the lighting from the Morro Bay rock, about one mile away, using a proprietary system he devised from a cellular connection, virtual private network and Apple iPad interface.
Stavros hopes that the success of the Stacks Art Light Installation will spur Morro Bay, a city that thrives on tourism, to form a committee that would commit to lighting the stacks on a permanent basis. "The city could do six or seven applications a year," he said.
A.C.T Lighting is the exclusive distributor of Clay Paky lighting in North America.