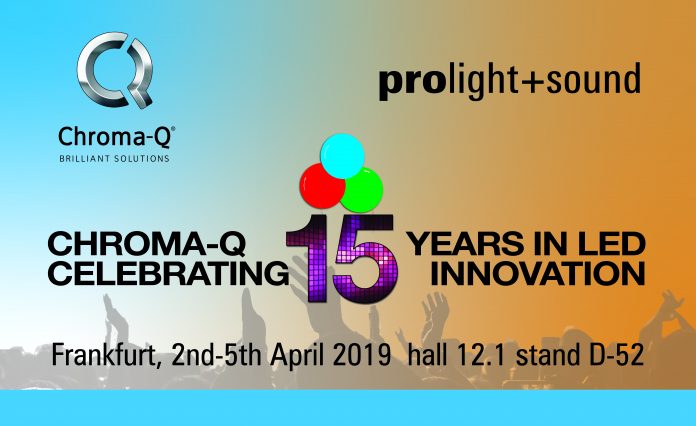 Chroma-Q will showcase its latest range of LED Solutions at Prolight + Sound, Messe Frankfurt, 2nd – 5th April 2019.
Chroma-Q has been a pioneer in the development of LED lighting for entertainment applications since launching the Color Block DB4 in 2004. The brand's latest generation of lighting solutions utilises Chroma-Q's proprietary homogenised optics, colour management and dimming technologies – drawing upon 15 years of LED expertise – to deliver a superior quality of light output and colour consistency.
The Brute Force powerful new, LED alternative to traditional light sources such as a quarter 'Wendy Light', will be making a big impact this year. Capable of delivering up to 140,000 lumens and drawing just 15 amps @ 240V, the larger Brute Force 6 is a highly versatile, controllable fixture that could change users approach to lighting.
After its unveiling at the show last year, the Studio Force II has been adopted in a number of studios. This high intensity, tunable white LED wash batten delivers variable colour temperature, plus/minus green shift control, and can produce deeply saturated colours when needed.
Widely adopted by major Film & Television companies, the award-winning Space Force LED space/soft light combines a powerful output with tuneable white control in a lightweight, internally ballasted design featuring low heat convection cooling.
The award-winning Chroma-Q Color Force II will also be on display to demonstrate stunning colour blending for grazing a variety of interior surfaces.
Providing inspiration for the architectural and installation market is the multi-award-winning Chroma-Q Inspire range of colour changing LED house lights. These versatile fixtures have been fitted in a multitude of venues to create an immersive experience.
Also showing at Prolight + Sound for the first time, the Vista 3 by Chroma-Q next-generation lighting & media control system provides simple, visually-based programming and control which is scalable from small venue up to large concert tour applications.