Christie Lites has welcomed five new team members to its UK, Germany, USA and Canada shops.
The addition of these new team members reflects the company's growth aspirations in multiple sectors, including TV, Special Events and Theatre.
London-based Rental Representative, Alex Griffiths brings a decade of experience at the heart of the lighting industry, from lighting technician at the Royal Albert Hall to Technical Manager at DCLX where he was immersed in the corporate and fashion sectors, freelance contributions to the music and TV worlds, and most recently, as a touring crew chief.
"I've had the privilege of collaborating with exceptional individuals and building a robust network of industry professionals," he commented. "I'm excited to harness my network and expertise in my new role at Christie Lites, contributing to the continued success of our lighting projects." One of Griffiths' key objectives is to expand Christie Lites' presence in the TV and Special Events sector.
Michael Casper-Blunck is looking to grow the German market, drawing on his 30+ years in the industry. During his career, he has worked as a rental rep for companies including PRG, ETC and Battermann and has experience in global events such as the 2000 and 2004 Olympics and major tours with Scorpions. "We have invested in a lot of new kit in Berlin, and I am excited to collaborate on new projects in TV and corporate sectors, and e-sports," he enthused.
Canada-focused Daniel Sonenburg has twenty years of experience in theatre production and corporate events and has designed lighting for high-profile events, including the Vancouver Olympics. "I hope my knowledge of varied equipment, and my experience working with many designers, operators and technicians will help me to help my clients succeed," said Sonenburg. "I love being there to support and assist people reach their goals – I am closely tied to many designers across the country, and I aim to help Christie Lites assist them with all their productions."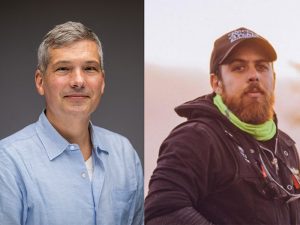 Two new Rental Reps join in Christie Lites's USA operations: John Demous and Storm Moszkowicz. Demous is based in New York, where he has worked on Broadway since 1998 and has taken several shows around the world for renowned LD Ken Billington. "I understand the pressure and urgency of production, from the initial meetings to the closing night," he commented. "Quality staff, timing and availability being key to any production's success. Broadway and live entertainment are always changing, and I can't wait to see what is going to happen next – I hope that I can help new designers embrace Christie Lites in a stronger way."
Storm Moszkowicz has been on the NYC scene for a decade, learning about production, backline, audio, lighting, stage design and networking and helping launch nightlife venues. Post-COVID, he started a construction company and collaborated with Christie Lites, cementing a relationship that has now resulted in his appointment. "The main chunk of my knowledge of lighting extends from concerts, mainly EDM and Techno, and festivals, and my network extends from the Middle East to California," he explained. "I'm hoping to bring together my determination and drive for quality event stewardship to Christie Lites to help forge long lasting and meaningful relationships with our customers."
Christie Lites CEO Huntly Christie commented: "We are very excited about the continued growth of our Rep Team. Our success has long been built around the development of strong client relationships and our new additions have been selected to support this long held tradition."