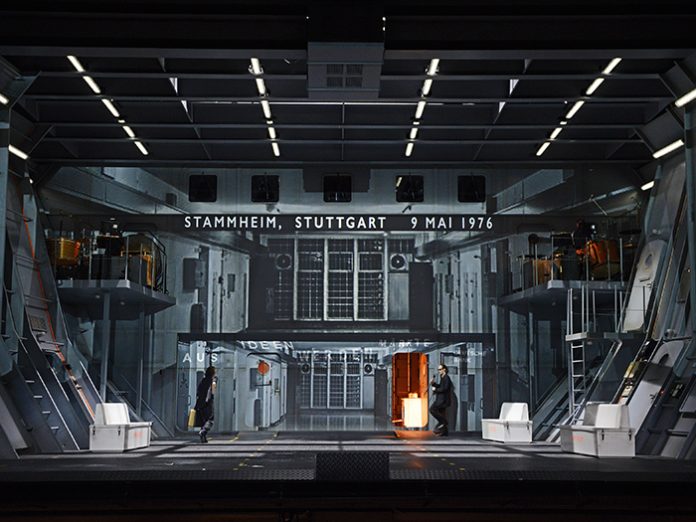 In preparation for the demand of modern opera productions, Zurich Opera, has expanded its Christie Boxer arsenal with a fourth 4K30 projector .
The high resolution of the Christie Boxer 4K30 with 4,096 x 2,160 pixels was indispensable for the large, roughly 16-metre-wide back projection onto the back wall during The Hamlet Machine by Wolfgang Rihm stage production. As Elfried Roller, responsible for the lighting design of the piece, explained: "The advantage of the 4K is that when the actors cross the stage, the bars of the pixels aren't visible any more."
The Zurich Opera has been experimenting with video for a long time and had used Christie Roadster series projectors before. "This was also the basis for the decision in favour of the Christie Boxer 4K30 3DLP projector. The old projectors never failed us, so when converting to more powerful models we wanted to go back to Christie," said Roller. The three projectors were sold by Christie's distribution partner publitec and delivered and installed by the smARTec company.
Thanks to its outstanding brightness of approximately 30,000 ANSI lumens, one Boxer 4K30 is used not only for projection in front of the stage but also as a spotlight. "The applications for video projections vary widely. The projections are always an element of the stage design. The Christie Boxer gives us complete flexibility in the design. For example, the projectors can also be used upright in portrait mode – that's a huge plus," said Roller. In addition, since the compact projectors are not too heavy, this makes the daily set-up and dismantling very easy.
Markus Mathis, who oversaw the project for smARTec, is delighted with the successful use of the projectors: "We knew we had to rely on a device that was at the cutting edge of technology, but that would still be accepted for a few years yet." The portfolio in an opera house can't be changed that quickly, as the current productions and revivals of pieces have very few set-up times.
"As a technical tour partner of the Zurich Ballet, we rely on high-quality and user-friendly products. In this way, we can optimally meet these high requirements and contribute to an unforgettable moment for the spectators," said Mathis.
"We are therefore very happy that the Zurich Opera House has opted for the Christie Boxer 4K30 for its stage projections. The Boxer 4K30 is impressive – which is why we have integrated the projectors into our rental pool and are delighted to regularly use them or rent them out for a wide variety of events."
As to the final question of how the future of video projection in the opera/stage world will look and whether it would soon replace classic stage design, Roller had a clear answer: "It depends entirely on the intention of the director and how it's designed. In any event, I don't think that in the future projections will completely replace stage design."
The Zurich Opera has about 12 premieres a year, of which about 4-5 rely on projection technology. "Video projection is a part of the big picture."