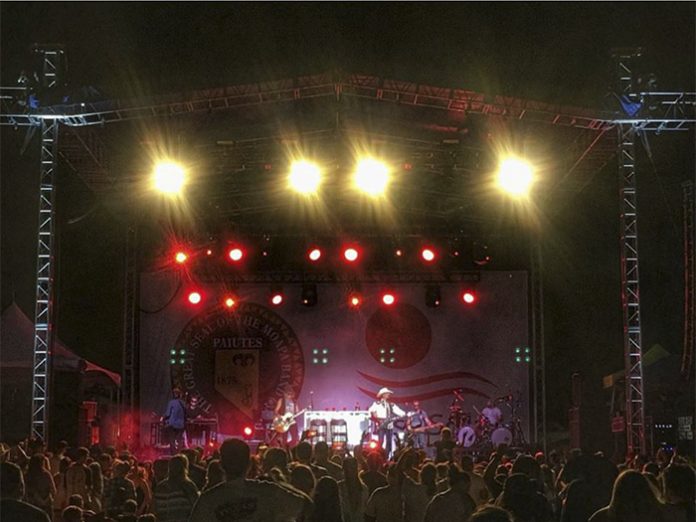 This Fourth of July, the firework display at the Moapa Paiute Travel Plaza was not the only thing illuminating the sky, as more than 70,000 fans who attended the Moapa Madness festival got to witness an intensely bright lightshow that included a collection of Chauvet Professional LED fixtures supplied by Kilroy's Lighting and Production.
Lighting Designer Steven Brody used these fixtures to wash the stage at Moapa Madness, a two-day Fourth of July celebration that featured a nonstop procession of heavy metal, glam and hardcore country music. Now in its third year, the event was headlined by former Poison frontman Bret Michaels, Vince Neil of Motely Crue fame, and country band Big & Rich.
Brody's rig included 16 Q-Wash 419Z RGBW LED washes. He flew the compact fixtures eight each on two even rows of downstage truss. Working with Lighting Director Michael Sheck, he used the Q-Washes for a wide range of functions during the event.
"These are very versatile fixtures that did everything we asked of them," said Brody. "We had some powerful spots in our rig to reflect the intensity of the music, and the Chauvet washes matched up very well with them in terms of brightness and colours. We used them to wash the stage and apron, for audience lighting and to create some nice aerial washes.
"We wanted a completely incandescent stage wash look," continued the LD. "With this kind of event in this setting, it was important that our show look very bold. The incandescent created a sharper, harder edged ambience. The colourful wash we created really helped make all of our fixtures look more intense."
Brody also credits the zoom range of 7° to 25° and lensing features of the Q-Wash fixtures with providing an even wash. "It was important that we get nice even coverage," he said. "Power and heat are always an issue in July when you're in the Valley of Fire outside Las Vegas. We didn't want to have a fixture heavy rig, because of setup and tear down issues in this heat. Plus being that these are LED fixtures, they didn't contribute even more heat to what we had on stage. Matt Smyrnos, owner of Kilroy's Lighting, did an excellent job setting us up with the right fixtures for this event."