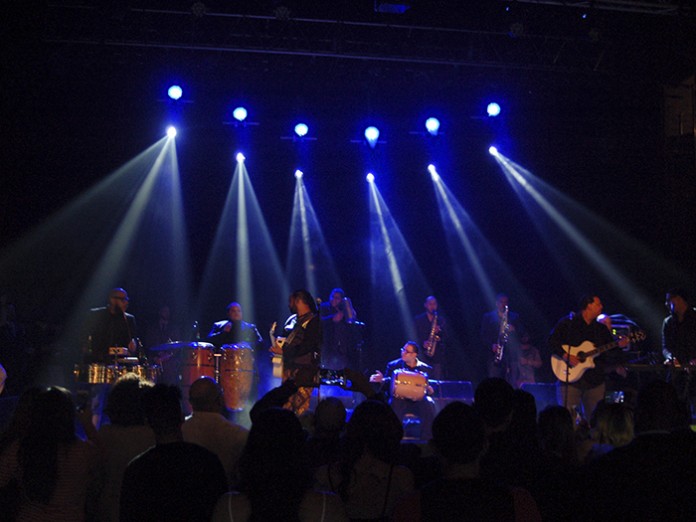 At a recent one off at Providence's legendary Roxy, Vargas brought all of his trademark verve, excitement and unrestrained sense of surprise to the stage. Lighting Designer Cody James was ready with a rig built around Rogue fixtures from Chauvet Professional.
Vargas was among the first bachata artists to perform with an electric guitar, an act that is widely credited with expanding the popularity of the Caribbean musical genre. Now some 20 years after his debut, Vargas is as ardent as ever about promoting bachata, a passion that fuels his tireless touring schedule.
"Luis Vargas puts on an exciting show, so you want lighting that pops to match it," said James of JDI Productions. "The only big challenge with this one was not knowing the stage setup of the band when we started. I had to design a show that would be capable of working with whatever the band showed up with and decided to use."
The need for flexibility made the Chauvet Rogue RH1 Hybrid an indispensable part of James' rig for the Vargas concert. "Any time you do a one off, you want a flexible rig that can be adjusted quickly, especially when the artist you're designing for is very creative," said the LD.
"We wanted the Rogue RH1s to be part of this rig, because they are so flexible. We used them as beams, spots and washes throughout the show and for the DJs who opened for Luis Vargas. The Rogues gave us enough new looks that we were able to keep the design fresh throughout the evening. Our rig just flowed with the performances on stage."
James also relied on the layered prism capabilities of the six Rogue RH1 Hybrids in his rig to create a sense of depth on stage. "I really used the layered prism looks for the Luis Vargas show, because they gave me a deeper look on stage," he said. "I was able to get this depth, even though I used a relatively small number of fixtures."
In addition to the Rogue RH1 Hybrids, James' rig included six Rogue R1 Washes that were used to colour the stage. "I used the Rogue R1s to saturate the stage with bold colours in keeping with the passion of the music," he said. "The wash from the R1 mixed very well with the split colours from the RH1 Hybrid."
The Rogue RH1 Hybrids and R1 Washes were positioned on customised T Bars located upstage. James hung the fixtures at multiple levels to hit the stage at different angles. Also on the rig were two Vesuvio RGBA LED water-based foggers for atmospheric effect. James controlled his lighting fixtures with an Avolites Pearl Expert. He connected the fixtures using 5-pin DMX through an opto-splitter to front of house.
"It was a very simple, straightforward rig that we used for this show," said James. "However, because the Rogue RH1 has so many features like split colours and layering prisms, we were able to use our simple rig to create some very complex and varied looks, which is good, because that's really what we needed if we were going to do justice to the artist on stage."