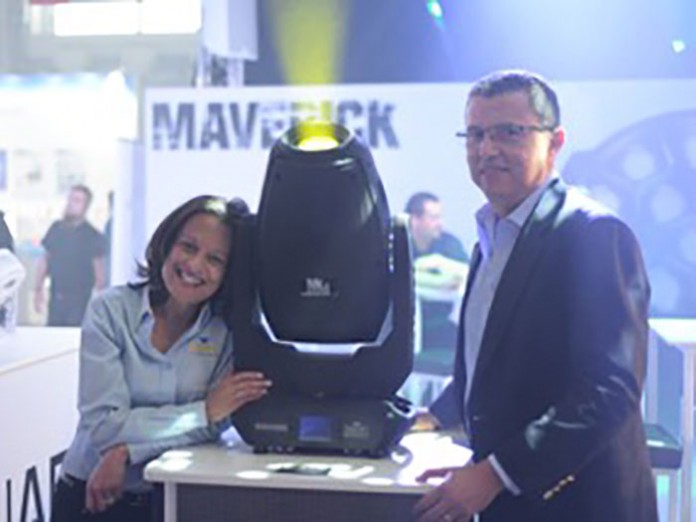 A record number of visitors came to the Chauvet Professional booth a Prolight+Sound to see the company's new Maverick series. The power-packed series of tour ready moving fixtures, which features the MK2 Wash, MK1 Hybrid and MK2 Spot, more than lived up to the advanced billing with its intense output and extensive performance features.
"We set out to make a statement with Maverick," said Albert Chauvet, president and founder of Chauvet. "We wanted to prove that powerful full-featured tour-grade fixtures can be offered at an affordable price. Based on the feedback we received at Prolight+Sound, it seems that we have achieved this goal. Our stand drew more people than we ever saw at this show."
The new Maverick series represents the culmination of a long and dedicated effort for Chuavet Professional. "We put a lot of thought into developing products that meet the performance requirements of lighting professionals," said Berenice Chauvet, vice president of Chauvet. "Naturally, we were very excited to unveil the Maverick series, and we have been thrilled by the positive feedback from customers."
Featuring advanced optics and high output light sources, the Maverick series builds on the momentum established by the very popular Rogue moving fixtures, which the company introduced in 2014.
Ready to begin shipping the Maverick wash and spot fixtures later this spring, Chauvet Professional expects the series to be eagerly accepted by a market hungry for its combination of performance and value. "Based on what we've seen at Frankfurt, Maverick will get off to a fast start and continue to grow from there," said Albert Chauvet. "We are looking forward to expanding this series even further in the future."
In light of the response to Maverick at Frankfurt, it's a safe bet that this prediction will turn out to be resoundingly true.