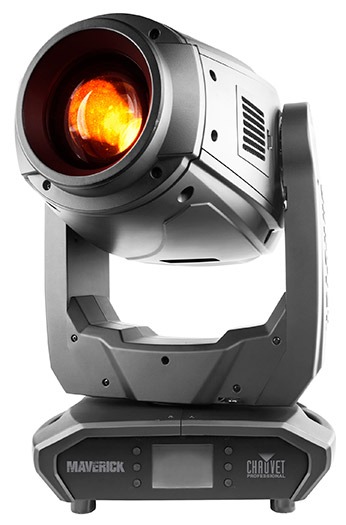 The new Maverick series of powerful moving fixtures from Chauvet Professional generated worldwide buzz when it was shown at Prolight + Sound in early April. Now the company has announced that the first product in the series to be available will be the Maverick MK2 Spot. Bright, fast and loaded with outstanding performance features, the new LED spot is already making waves in the marketplace, according to Chauvet.
"The response to the Maverick MK2 Spot has been overwhelming," said Albert Chauvet, CEO of Chauvet. "We aimed this product at the lighting professional and rental house who want a very bright tour-ready affordable spot that can be used at an arena one night and a 500-person venue the next. Our research told us that this part of the market was being overlooked. Based on the incredible interest in the Maverick MK2 Spot, it looks like that research was absolutely on target."
Powered by a 440-watt LED engine, the Maverick MK2 Spot has an impressively bright output, producing an illuminance of 2,518 to 18,079 lux at five meters, depending on the zoom angle. The new fixture, which has a seven-position plus white colour wheel, also produces a wide range of rich, realistic hues, thanks to its CMY and variable CTO colour mixing system.
"Brightness and excellent colour mixing were essential to us during the design process," said Chauvet. "However, we also wanted to go beyond output and colour to offer a moving spot that maximised the creative possibilities for designers. We did this by engineering an impressive list of performance features into the Maverick MK2 Spot."
Among the fixtures cited by Chauvet are a precision engineered optical system, dual six-position rotating slot and lock gobo wheels, variable frost, a 3-facet prism, 13° to 37° zoom range and 16-bit dimming for the smooth control of fades. The user-friendly Maverick MK2 Spot also offers a wide variety of control options, including DMX, WDMX, SACN and ArtNet.
"We're excited by this roll out," said Chauvet. "We think this is a fixture that the touring market has been looking for." Based on the enthusiastic response that the Maverick MK2 Spot has received already, it's apparent that a lot of lighting professionals agree.