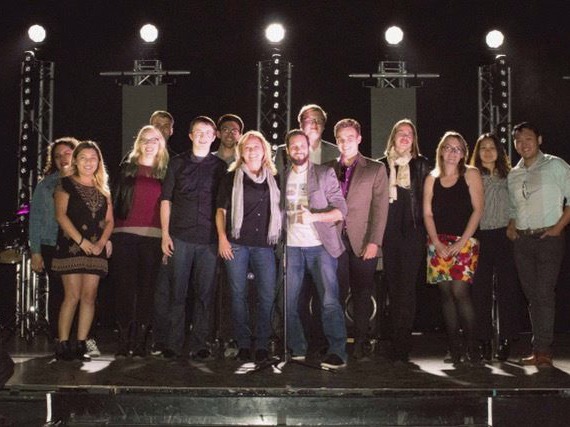 The historic Ricardo Montalban Theatre glowed with the latest in lighting technology and new design ideas on the 1st of April when it hosted the fourth annual Chauvet Professional Student Lighting Showcase. An interactive educational event, the showcase has students from college theatre programs collaborate on lighting projects, and then have their work evaluated by noted lighting designers.
"We built this event on the idea of learning by doing," said DeAnna Padgett, National Sales Manager of Chauvet Professional. "The students enjoyed working on their projects, which involved lighting scenic elements on the Montalban stage and then having some constructive feedback from designers they know and respect. It's a unique opportunity for them. We're grateful for the LDs who came here to lend their wisdom and encouragement to the students."
Jeff Ravitz, Jim Moody, Matt Ford, Dan Hadley, and Brian Hartley were among some of the top LDs in our industry who participated in the event. Noted programmer Eric Barth volunteered his services to run the board for the students' designs.
At this year's event guests received performance ballots to vote on the student designs based on factors like overall creativity, timing and musicality, technical execution, system integration and storytelling. The winner, in a close contest, was the University of Southern California. The USC students were Justus Bradshaw and Derek Christiansen who were taught by Assistant Professor Tom Ontiveros, Director of BA Design/Production Students at the university's School of Dramatic Arts.
Students got to work with a wide assortment of Chauvet Professional fixtures representing the latest in lighting technology. This collection of gear included: Maverick MK2 Washes, MK1 Spots and MK3 Washes, Rogue R2 Beams, RH1 Hybrids and R1-FXBs,
Amhaze II haze machines, and PVP F4 LED video tiles.
There was a touching moment before intermission of the event when JT Tautkus was memorialized. A gifted student from Los Angeles City College who participated in the first two Chauvet Professional Student Lighting Showcases, Tautkus lost his life in a motorcycle accident shortly after his graduation.
"JT embodied what this event is all about," said Padgett. "He was young and gifted, a shining star of the future before he was tragically taken away. But the spirit of what he represented is still here. We are growing the lighting industry by encouraging talented young people to express their creativity."