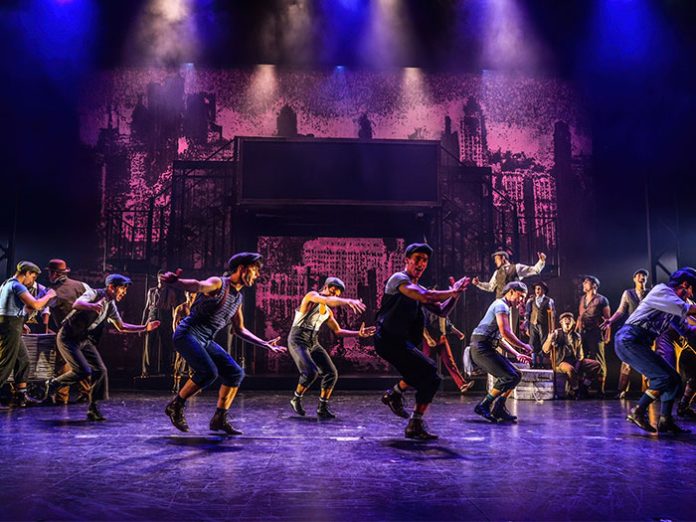 The story told in Newsies is very familiar to theatre goers and Clifford Michael Spulock, of CS Lighting, was excited to take on the challenge of lighting this theatre classic at the Slow Burn Theatre Company's production earlier this summer.
"It all plays back to the newspaper theme," Spulock said of his design. "When you think of a newspaper at the end of the 19th century when this play takes place, you think black print on a white background, as well as sepia toned photos. So, my main goal was to use more sepia and white tones, as well as shadowy space to get the feeling of an older newspaper. My more vibrant colors come out for the big dance numbers and to accent more intense moments of the show, but the overall tone fits the newspaper mood."
Achieving this effect was due to a collection of 44 CHAUVET Professional Maverick, Rogue and COLORado fixtures. Playing a critical role in washing the stage were the 22 COLORado 2 Zoom Tour fixtures in Spulock's rig. Arranged on four electrics over the stage, the RGBW units were used to project different combinations of redolent hues over a massive set piece.
Adding to the colour scape was light from six Rogue R2X Wash fixtures. "Using my R2X washes as side lights, I was able to keep the actors lit while still keeping the shadows and gobo breakups present within my design," Spulock iterated.
With gobo breakups being a main part of Spulock's design for this production a pair of Maverick MK2 Profile fixtures and a number of Rogue R1X Spots were positioned on catwalks and were essential to helping Spulock separate the stage with interesting gobo patterns.
Creating breakups helped Spulock engender a sense of intimacy on the stage with large set pieces. "Dealing with the massive set piece was a fun challenge for me, more than anything," he explained.