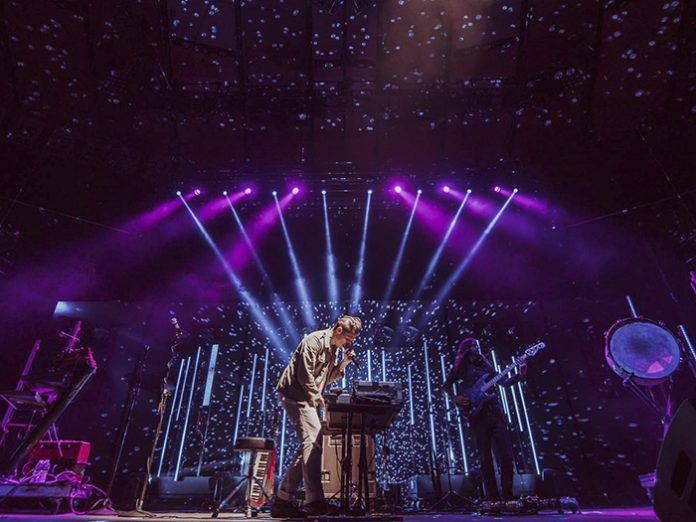 From February through August, the MUTEMATH Vitals 2016 tour's lighting rig featured ÉPIX Strip fixtures from CHAUVET Professional.  Lighting designer Jeff Lava of 44 Designs used the linear LED fixtures to help him create a soaring, expansive light show.
Lava, who has been working with MUTEMATH almost since the band's formation in 2002, used an average of 40 of the one-metre LED linear fixtures to create an added sense of height on stage. The video mapped strips displayed vertical ribbons of colour. In so doing, they not only conveyed a powerful visual image, but also reflected the colour-band-and-mountain artwork on the group's

 

Vitals

 

LP.
"What Jeff went for in his design is a very vertical show that created an uplifting image and, at the same time, mimicked the album artwork of the mountains and the ribbons of colour," said Dayne deHaven, who was the Lighting Director for the national tour. "Jeff wanted to create a rig that could present a big image even on some of the smaller stages we perform on. The staggered look we created with the ÉPIX made this show, which is very small in size, look huge on most stages. The strips helped sell the height of the rig, and the ribbons of colour reflected the image of the album cover."
The ÉPIX fixtures on the MUTEMATH
Vitals
rig were arranged vertically on easy-to-manoeuvre carts that doubled as their storage units. When they weren't being used as lighting fixtures, the strips displayed a combination of custom and stock video content.  The video content was delivered by an ArKaos
Media Server using ArtNet and Kling-Net protocol.
In addition to the ÉPIX fixtures, the rig included four beam fixtures and four strobes controlled by a grandMA2, as well as a 20-inch mirror ball. The output of the LED strips held up well against the other fixtures in the rig, and their rainbow of colours paid visual tribute to the diverse range of styles, from electronic to emo, that MUTEMATH is able to weave into its
Vitals
tour. 
As one critic reviewing a tour performance observed, "Different coloured lights on parallel lines of the backdrop is a nice representation of the variety of music Paul Meany (MUTEMATH front man) and his band have in store." Lava, deHaven and the rest of the 44 Designs team, including Andy Rushing (who programmed the spring tour) and Video Media Server Specialist Robert Hickman, couldn't agree more.