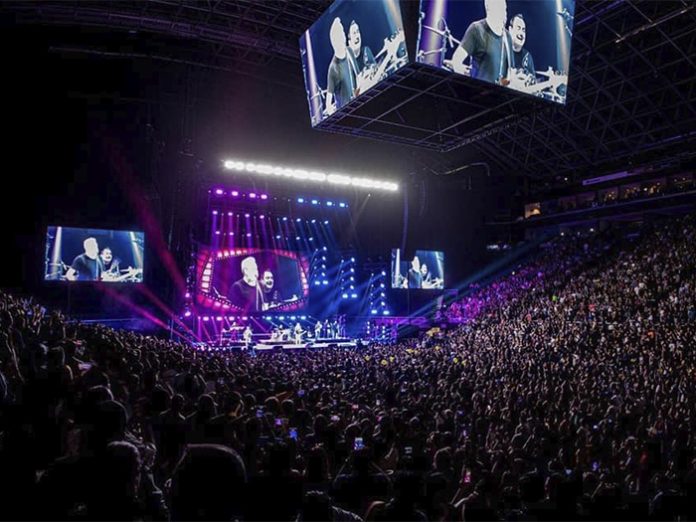 Celebrating 40 years of Spanish quartet, Hombres G, the Seguimos Empezando tour is running throughout Spain and Latin America, treating fans to hits like En la Playa and La Esquina De Rowland during a two-hour set in which the band never takes their foot off the gas pedal.
Reflecting this energy at Hombres G's sold-out performances at Arena Monterrey and Arena Ciudad de México was a CaCo García light show anchored by 30 CHAUVET Professional Color STRIKE M motorised strobes supplied by Serpro Producciones.
The band's lighting designer for the past 11 years, CaCo García, brilliantly created a variety of looks that captured the mood and spirit of each song. The versatility of the strobe-wash Color STRIKE M with its 180° tilt range, pixel mappable face, and two ultra-bright central tubes was instrumental in helping him conjure up this range of looks.
"I am very happy with the performance of the Color STRIKE M. It is a fixture with many features that brings a wide range of possibilities to the design and execution of the show," said CaCo García. "Whenever I can, I use them in their extended modes of 74 or 97 channels; this it gives me a level of total customization on all their functions. Its power, degrees of opening, and performance in saturated colours stand out, simply spectacular"
Serpro Producciones, which supplied all of the lighting, audio and video equipment for the Mexican leg of the Hombres G world tour was proud to be involved in the legendary band's show. (Hombres G received commemorative plaques honoring their achievements at Monterrey and Mexico City.)
For their part, Hombres G wasn't just celebrating past accomplishments, they were also looking forward. Their tour's tagline in English was "40 Years and We're Still Starting." Anyone who had the privilege of seeing their performances in Mexico would certainly agree.