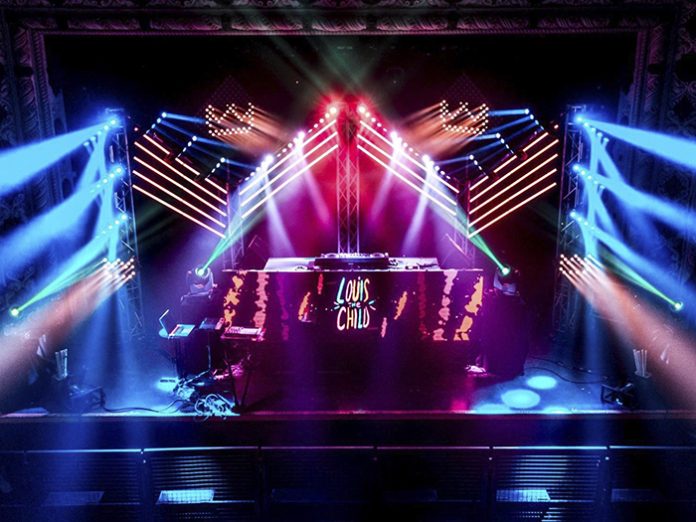 EDM duo Louis the Child's current Spring Tour embraces the spirit of their music with an immersive and highly original lightshow. Designed by Kendall Clark and programmed by Andrew Roman, a rig of Chauvet Professional fixtures were used and supplied by Creative Production & Design (CPD) of Austin, Texas.
"The lighting really reflects the music and what these artists are all about," said Justin Jenkins of CPD. "Kendall's design manages to be complex without being complicated. Every fixture in the rig has a purpose and it contributes to telling the story we want to tell."
On the Tour, 12 Rogue R1 FX-B fixtures are used to outline a three-pointed crown (the group's logo) made of pipe and truss, and occupies a dominant centre stage position. The remaining six units are mounted three apiece on two truss totems positioned stage left and right. The Rogue R1 FX-B fixtures outlining the logo are mounted on a 90° axis with the menus facing down, while the off-stage vertical Rogues are mounted with the menus facing on stage.
The rig also includes 32 ÉPIX Strip Tour 1m LED strips, which are used to fill in the volume under the crown structure; four Legend 230SR Beams mounted on the deck are used for aerial effects; ten Nexus Aw 7×7 panels; two Amhaze II foggers; and 14 PVP X3 LED video panels used to display text and breakout patterns on the face of the DJ booth.
Clark pixel mapped the ÉPIX Strip Tour and Nexus Aw 7×7 panels, coordinating the images with those displayed on the video wall to create an immersive effect. He ran the show with a High End Systems Hog 4 and Resolume Arena media server. Stage design and visualisation work was done in Capture Atlas. Video content animation was created by The VJ Collective's Brent Bucci and Nat Leonoudakis.