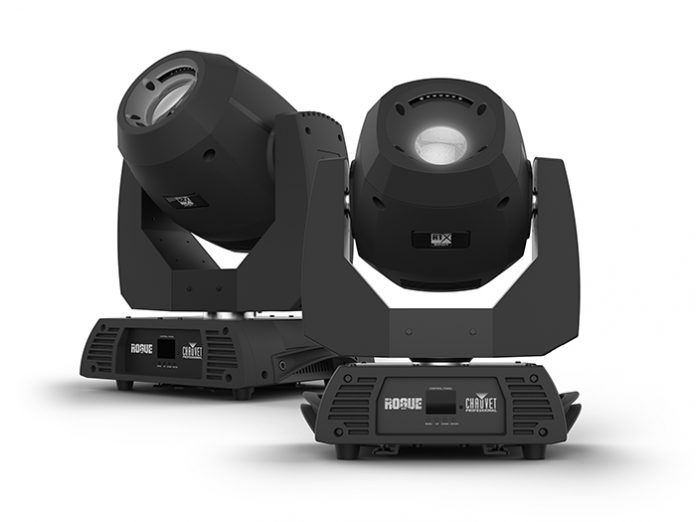 Chauvet Professional has added a new line to its popular Rogue series of moving fixtures. The company has introduced 2 bright and bold moving spots: the 300W LED Rogue R2X Spot and 170W LED Rogue R1X Spot. Their intense output and rich collection of features notwithstanding, the 2 newcomers are compact and affordable.
"The R2X and R1X both are true to the Rogue spirit of putting rugged, roadworthy fixtures within reach of the average budget," said Albert Chauvet, CEO of Chauvet. "However, we stepped things up with the Rogue R2X and Rogue R1X, so our customers can add extra punch to their shows even at larger venues."
In addition to their impressive output (11,000 lumens for the R2X Spot and 6700 lumens for the R1X Spot), both fixtures offer a range of performance features designed to spice up any show. The R2X Spot, for example, features a 16.5° beam angle, 2 variable scrolling colour wheels with 7 colours and split colour capability, as well as a 3-facet prism and smooth gobo morphing between its dual gobo wheels.
"Designers will be able to create an unlimited number of shape-changing and split color effects with the R2X Spot," said Chauvet. "These capabilities, along with the fixture's incredibly bright output, rich colors and 16-bit dimming make it a versatile design tool."
The Rogue R1X Spot is also a creative powerhouse, with its motorised iris and focus for beam shaping, 16° beam angle for crisp gobo projections and a colour wheel that features 8 colours, split colour ability, and continuous variable-speed scrolling. Adding to its versatility are its dual gobo wheels with seven interchangeable gobos, as well as its 3-facet prism for stunning aerial effects and 16-bit dimming for smooth fades.
Both fixtures are RDM enabled for remote addressing and trouble-shooting, and both feature: Neutrik powerCON power input/output connections for power linking; simple and complex DMX channel profiles for programming versatility; 3- and 5-pin DMX input/output connections; and selectable PWM settings for flicker-free operation on camera. The R2X offers a selectable LED maximum output, allowing it to match Rogue R2 Spot fixtures that are already in a rig, while the R1X can be matched to existing Rogue R1 Spot units.