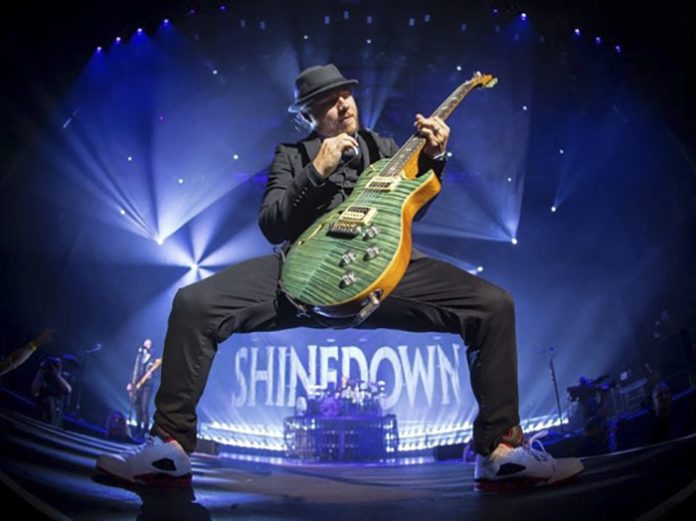 Florida hard-rockers Shinedown have made use of several Chauvet Professional Rogue R1 FX-B fixtures, supplied by Bandit Lites.
Sooner Routhier and Robert Long of SRae Productions created the lightshow for the band's Carnival Of Madness Tour, as well as overseeing all scenic elements of the production.
They position the five-headed moving Rogue fixtures on seven ladders located upstage behind the set.
"With the proper amount of separation between the ladders and the backdrop, you get almost a 3D effect," said Routhier. "The texture on the drop and the lighting beams in front can mess with your eyes a bit."
The aerial effects, like every other aspect of Routhier's design, were carefully choreographed to work with the scenic elements on stage to support Shinedown's music. "If you speak with any of the directors we work with, they will tell you that I cannot stand the look of a circle ballyhoo through the audience unless properly placed in a show," said the LD.
"They laugh at me about it, but I'm a firm believer that just because a fixture is called a 'moving light,' it does not mean that it has to move through the entire show," he continued. "Surprisingly, I was able to use the Rogues for more aerial movement effects than I've used in a show before. Having the ability to tilt each source on the bars individually allowed us to create some beautiful waterfall effects."
Routhier and Lighting Director Carter Fulgham programmed 24 songs in a little over two days for the lightshow. "Time was a bit of an issue," said Routhier. "We had a good base to work with, but we ended up putting in some pretty long hours. Carter, as well as my business partner Robert Long – who did a lot of design work – and the rest of our team deserve a lot of credit for making everything come together."